Syria
Arab Regimes Plotting to Disintegrate Syria into 6 Emirates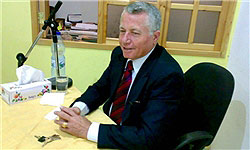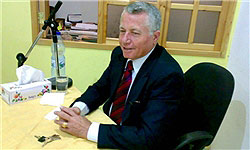 Secretary-General of Syria's ruling Baath party Fayez Ezzeddin blasted Qatari Emir Sheikh Hamad bin Khalifa Al-Thani for implementing US plots in the region, and disclosed that certain Arab regimes plot to disintegrate Syria into 6 tiny emirates.
Addressing the recent UN General Assembly meeting in New York, the Qatari Emir called on Arab nations to form a political and military coalition to intervene in Syria, posing a direct challenge to UN efforts to resolve the conflict through negotiations.
"Such proposals and plots cannot be assumed as insistence but they should be seen as orders given by the US to Qatar," Ezzeddin told FNA on Tuesday.
Noting that the US and other enemies of Syria have told the Arab regimes to do whatever they can to prevent Damascus victory against foreign intervention and unrests in the country, he said, "They are making every effort to annihilate Syria to disintegrate it into 6 tiny countries or emirates."
"This is the Greater Middle-East that the US and the Zionist regime wanted to create in the region, and certain Arab regimes have been tasked with exercising this plot and have turned into a tool in the hands of the US," Ezzeddin said.
Qatari and Saudi rulers want an overthrow of Syrian President Bashar al-Assad, a staunch ally of Iran, and they have taken every measure to this end.
Also yesterday, director of one of the branches of the Doha Bank disclosed financial documents substantiating the Qatari government's support for terrorist and rebel groups in Syria.
Lebanese Addiyar daily reported on Monday that it had received an e-mail from the Director of one of the Doha Bank branches owned by one of the royal family members, which unveiled the details of how Qatar financed terrorists in Syria.
According to the e-mail, the director suspected the transactions of the two Syrian bank customers Moataz al-Khayyat and Mohammed Moataz al-Khayyat.
The two men owned a small contracting company in Doha, named UCC.
"After they had usual small accounts of deposit, transactions, remittances, and credits, they recently started bringing a large amount of weekly money remittances from various sources," the director informed the Lebanese daily.
In relevant remarks late in August, Syria's National Reconciliation Minister Ali Heydar blasted Turkey, Saudi Arabia and Qatar for practicing the western and Israeli policies in the region.
"Turkey, Saudi Arabia and Qatar put the policies of the West and Israel into effect in the region," Heydar told reporters in a press conference here in Tehran at the time, and added, "There is a great difference between those who present a plan against Syria, that is the US and Israel, with those who practice these plans, that is, Turkey, Qatar and Saudi Arabia."
He voiced his country's anger at the three regional states, and said, "We believe as long as the US policy on Syria remains unchanged, these states won't change their policies either, and this status will continue until after the US presidential election."
Syria has been experiencing unrest since March 2011 with organized attacks by well-armed gangs against Syrian police forces and border guards being reported across the country.
In October 2011, calm was eventually restored in the Arab state after President Assad started a reform initiative in the country, but Israel, the US and its Arab allies are seeking hard to bring the country into chaos through any possible means. Tel Aviv, Washington and some Arab capitals have been staging various plots in the hope of stirring unrests in Syria once again.
The US and its western and regional allies have long sought to topple Bashar al-Assad and his ruling system. Media reports said that the Syrian rebels and terrorist groups have received significantly more and better weapons in recent weeks, a crime paid for by the Persian Gulf Arab states and coordinated by the United States.