Palestine
Arabs and muslim world' visit to Jerusalem: A boost to Israeli economy (report)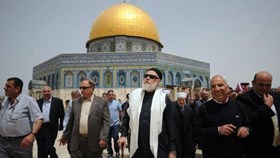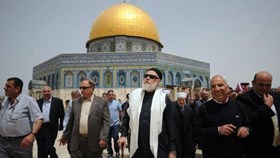 The Arab and Muslim visits to Al-Aqsa Mosque in occupied Jerusalem have been controversial. Some people are in favor as they see it an Islamic mandate that would strengthen the persistence of the people of Jerusalem, while others see it as normalization with Israel and a way of showing recognition of the occupier and support for its economy.
The Palestinian writer and political analyst, Rasim Obaidat, from Jerusalem argues that the Israeli occupation is the major beneficiary of the Arab and Muslim visits to Jerusalem. Israel, as he believes, owns the hotels and facilities that serve these visitors, while the Palestinians own few shops and facilities that cannot compete with the Israelis'.
A hand for Israel
Obaidat noted that the Israeli occupation authorities have the authority to determine who can visit Jerusalem. They use security pretexts to prevent some tourists from visiting Jerusalem, as he added, and all the visits are done under the supervision of the Israeli authorities.
Statistics showed a significant decrease in the Arab and Islamic tourism in Israel in 2014 as a result of the Israeli aggression on the Gaza Strip. However, this year witnessed an increase, as around ten thousand Muslim and Arab tourists visited Jerusalem since the start of 2015 until April 7, according to Haaretz.
Haartez reported that tourism in Jerusalem is going through a stationary phase as it has decreased by 20% since the Israeli aggression in the summer of 2014.
Nonetheless, the situation, according to the report, could have been worse if it had not been for the tens of thousands of Muslim and Arab tourists. Visitors from Muslim and Arab countries have been increasing recently, especially after the opinions issued by Muslim scholars recommending visiting Jerusalem.
On the contrary, Jamal Omar, a specialist in the affairs of Jerusalem, believes that visiting occupied Jerusalem "is not normalization nor Islamically banned".
Omar added that the recent Islamic opinions "encourage Muslims from all over the world to visit Al-Aqsa Mosque, except for the important figures who need to coordinate with Israel to enter Al-Aqsa Mosque from Bab al-Magharbeh unlike the other visitors. They should be cautious in this regard."
Omar confirmed the importance of the Muslim and Arab presence to defend Al-Aqsa Mosque and support the people of Jerusalem especially the businessmen.
This issue is also controversial among the businessmen of Jerusalem. Saleh Abu-Shamsiyah, a shop owner in the Old City, said that businessmen had sensed a slight difference over the past two months due to the Muslim and Christian tourists. He added, "I sell beads, scarves, and incense; I can say that the difference reached 20% utmost."
Improving Israel's economy
Unlike Abu-Shamsiyah, the businessman Rami Abd Assalam said, "Our economic conditions have not improved by the Arabs' visits at all; rather the Israeli economy has improved at our expense."