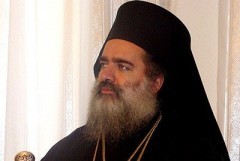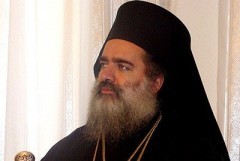 Archbishop Theodosios Attalla Hanna, Archbishop of Sebastia of the Greek Orthodox Patriarchate of the occupied Jerusalem underlined that Syria will come out of the crisis victorious, and will remain the Arab compass as it represents history and civilization.
During a visit to the Occupied Syrian Majdal Shams town to congratulate on the release of prisoner Yousef Shams on Wednesday, Archbishop Hanna called on the Syrians to engage in a constructive dialogue to realize a solution that prevents the Homeland form destruction and chaos.
He reiterated the Palestinians and the occupied Golan citizens' support to Syria, as leadership and people, to overcome this crisis.
The liberated prisoner Yousef Shams and Sheikh Naseeb Farhat appreciated the support of Archbishop Hanna and the Palestinian people for Syria, stressing that the citizens of Golan will remain the faithful soldiers for the Homeland in the face of foreign plots.