Europe
Argentina ruling coalition wins primary presidential elections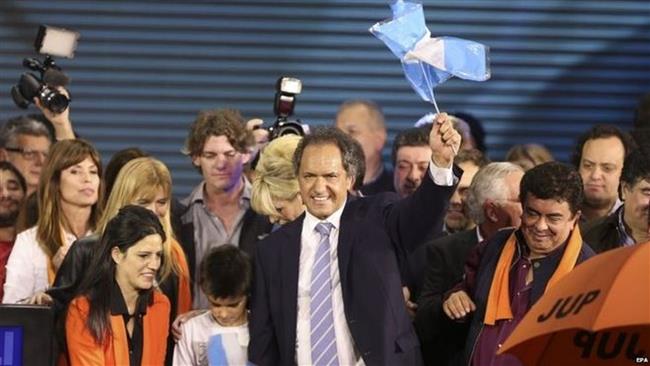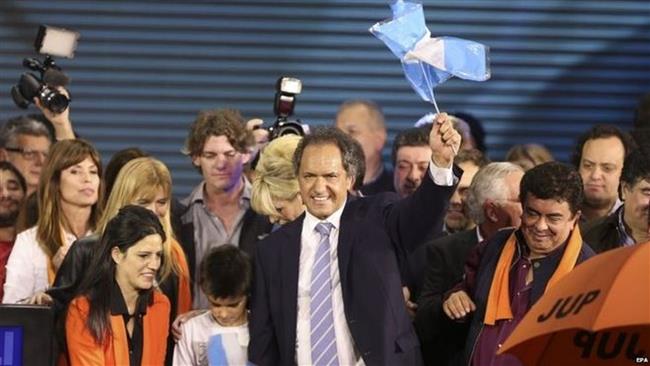 The presidential candidate for Argentina's ruling coalition has secured the majority of votes in the country's primary elections.
Daniel Scioli, the only candidate for the governing Front for Victory coalition, secured a 14-point lead over his conservative rival, Mauricio Macri as reports said late on Monday that as much as 93 percent of the votes cast during the Sunday elections had been counted.
Scioli, currently the governor of Buenos Aires province, and Macri, Buenos Aires mayor and a candidate of the conservative Cambiemos (Let's Change) coalition, won 38.3 and 24.4 percent of the vote respectively.
Many analysts maintain that the results of the primaries are a good indicator of who may win the presidential elections, the first round of which will be held on October 25 .
Voting in the primaries, introduced in 2009 to reduce the number of candidates running in the polls, is compulsory and open to all individuals eligible to cast their ballot in the presidential elections.
In order for the presidential contenders to be eligible to stand in the first round of the elections on October 25 they have to win at least 1.5 percent of the vote.
Argentina's presidential elections' rules stipulate that a second round of elections will be held if no candidate wins 45 percent of the of vote or secure 40 percent of the vote with a 10-point margin over the second-placed person.
Under Argentina's constitution, presidents can run for two terms in office and therefore, Cristina Fernandez de Kirchner, the country's incumbent president, who has been in power since December 2007, will not be able to stand again as a candidate.
Reports say that approximately 32 million people were eligible to participate in the elections.