Palestine
Argentineans hold protest at israel embassy in Buenos Aires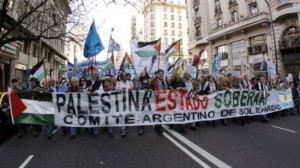 Muslim and Arab organizations have gathered outside the Israeli embassy in the Argentine capital Buenos Aires to express outrage at Tel Aviv's ongoing atrocities against the Palestinians, Press TV reports.
The Palestinian Federation of Argentina and the Argentinean Islamic Organization gathered during a rally in Buenos Aires to express solidarity with the Palestinians who are living under continual harassment by the Israeli government.
"Once again the criminal Israeli regime shows its brutality to the world. Palestinians have gone through every sort of period one can imagine and these new actions are unacceptable. They muscle their own people so that the Israelis themselves cannot protest against the horror. We are here to shed light on these crimes," said Carlos Asnares, an investigative journalist attending the protest.
The demonstrators also called on the Argentine government to condemn Israeli attacks and to urge Tel Aviv to immediately stop bombing innocent people living in the besieged Gaza Strip.
"We're here to speak about horror, genocide and torture. They need to learn a lot from the Nazis, and this must be denounced because unfortunately more of these atrocities are expected to come from them. This regime must be sanctioned by the international community," said Tilda Rabi, a pro-Palestinian activist.
Israeli forces killed several Palestinians and arrested hundreds of others, including Hamas members and lawmakers, as part of the military operations that were purportedly carried out in search of the three settlers, who Israel claimed had gone missing on June 12.
Tel Aviv claims the Palestinian resistance movement, Hamas, is responsible for the death of the three. However, Hamas rejects the allegation.