Syria
Armed Forces Inflict Heavy Losses upon Terrorists, Release 4 Kidnapped Citizens in Hama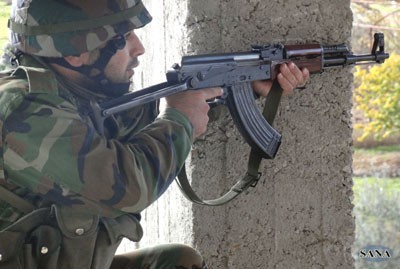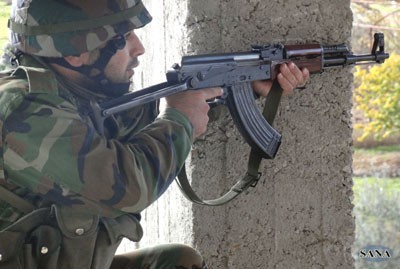 Units of the Armed Forces on Saturday continued pursuing armed terrorist groups in al-Dhiyabiyeh, Hejjeira and al-Husseiniyeh in Damascus Countryside, killing and injuring many terrorists.
An official source told SANA reporter that a unit of the Armed Forces killed seven terrorists in al-Dhiyabiyeh town and destroyed a mortar near al-Saudi farm in al-Bahdaliyeh area in the town.
The source added another army unit killed a number of terrorists and injured others near Sarah Company for Cars and destroyed a mortar set up by terrorists on a tractor at a bus station in al-Dhiyabiyeh.
The source also mentioned that a number of terrorists were killed in Fayez Mansour Street and near the grocery market in Hejjeira in al-Sayyeda Zainab area.
In al-Husseiniyeh, a unit of the Armed Forces destroyed an SUV vehicle equipped with a heavy machinegun and killed all terrorists inside near al-Shuhadaa gas station.
Terrorist Groups Eliminated in Aleppo Countryside
Units of the Armed Forces eliminated terrorist groups in Handarat and the Central Prison Road in the countryside of Aleppo.
Heavy Losses Inflict upon Terrorists in Hama Countryside, Four Kidnapped Citizens Released
Meanwhile, military forces clashed with an armed terrorist group that was blocking roads, committing acts of theft and robbery and threatening people in al-Athriya village near al-Salamiyeh city in Hama Province.
An official source told SANA reporter that many terrorists were killed and others were injured during the clash, while some of them fled away.
On the other hand, the authorities released four citizens after they had been kidnapped by an armed terrorist group for a week in Khnefees area in al-Salamiyeh.
The source added that the released citizens are Mohammad Ahmad Harmoush, Ghassan Abdul Hamid Haydar, Hossam Ezzat Oleiwi and Mahmoud Mohammad al-Zubeidi.
Explosive Device Dismantled near Bus Station in Hama
In another context, engineering units dismantled an explosive device planted by terrorists to target citizens near a bus departure station in Hama city.
An official source told SANA reporter that the 30-kg explosive device was prepared to be remotely exploded.
Terrorists Killed, Weapon Warehouse Destroyed in Rastan, Homs
In a qualitative operation, the Armed Forces destroyed a weapon and ammunition warehouse used by terrorists in al-Rastan city in Homs countryside.
An official source in the province told SANA reporter that several terrorists were killed during the operation, and a huge amount of weapons and ammunition used by the terrorists to attack citizens and public and private properties were destroyed.