Iran
Middle East
Army Commander: Iranian Navy's Pin-Pointing Missiles Able to Destroy Faraway Targets
Iranian Army Commander Major General Abdolrahim Mousavi said that the country's naval missiles are able to destroy enemy targets in remote areas.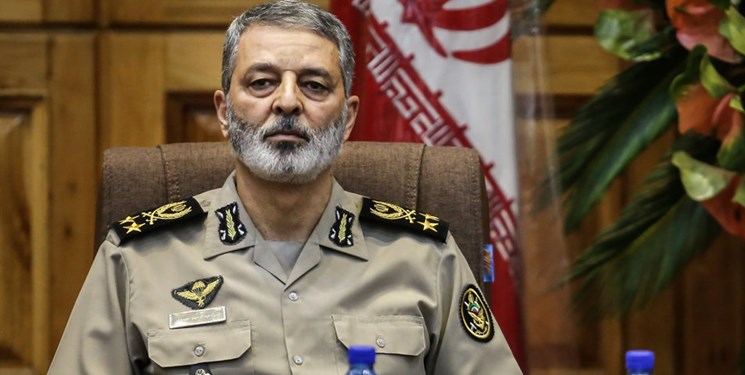 "The long-range missiles of the Navy which enjoy pin-pointing power are able to destroy targets hundreds of kilometers away from the vessels units during voyage in most remote seas," General Mousavi said on the occasion of the Navy Day on November 27.
He warned that if the enemy makes any mistake against Iran's interests, the strategic Navy of the Iranian Army will reciprocate it with a crushing response.
General Mousavi said that the Iranian naval forces in cooperation with all the regional states can bring security to the region and turn the Persian Gulf into the sea of unity and might of the Islamic nations if the trans-regional forces stay out.
The Iranian Navy warships protect the country's cargo ships and oil tankers in the high seas.
The Iranian Navy has been conducting anti-piracy patrols in the Gulf of Aden since November 2008, when Somali raiders hijacked the Iranian-chartered cargo ship, MV Delight, off the coast of Yemen.
According to UN Security Council resolutions, different countries can send their warships to the Gulf of Aden and coastal waters of Somalia against the pirates and even with prior notice to Somali government enter the territorial waters of that country in pursuit of Somali sea pirates.
The Gulf of Aden – which links the Indian Ocean with the Suez Canal and the Mediterranean Sea – is an important energy corridor, particularly because Persian Gulf oil is shipped to the West via the Suez Canal.
Deputy Commander of the Islamic Revolution Guards Corps (IRGC) Navy for Operations Admiral Qana'atpisheh said in September that Iran has sent its 69th fleet of warships to the free waters to safeguard the country's interests.
"The 69th fleet of the Islamic Republic of Iran's strategic Navy is protecting the country's interests in the far seas," Admiral Qana'atpisheh said, addressing a ceremony in Tehran.
He added that the Navy personnel have always stood beside the security forces to thwart the terrorists' attacks against the Iranian ships.
Admiral Qana'atpisheh said that the IRGC and Army naval forces are cooperating with each other to establish stability in the Persian Gulf, the Sea of Oman and the free waters.