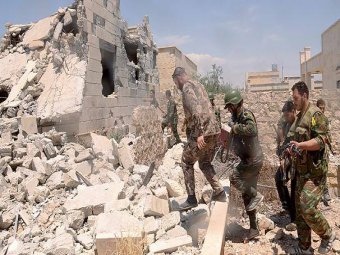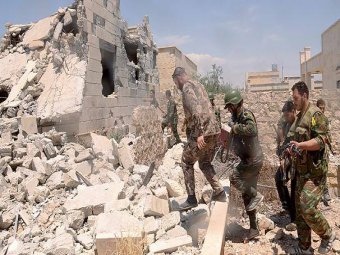 Syrian Arab Army has toady morning on Sunday, August 11, engaged in fierce battles against the armed militias in the jungles of Jabal al-Arba'een of Idlib. Meanwhile armed forces made progresses in al- Hweiqa neighborhood in Deir Ezzor.
Army's operations in Jabal al-Arba'een
Army targeted with both of artillery and air weapons the jungles of Jabal al-Arba'een in Areeha city, as combing campaigns of orchards and the surrounding areas of Areeha city, formerly liberated, still proceed foreward .
Breaking News Network correspondent to Idlib assured that the army is engaged in heavy clashes with militants in Jabal al-Arba'een, which is considered as a strategic location of the armed militias.
Armed forces foiled a gunmen attempt to detonate two improvised explosive devices (IEDs); each weighs 30 kilograms at the road of Idlib – Areeha, as security members' unit of Abu al-Duhur military airport fully elimitantedan an armed group south of Tal Salmo that is adjacent to the airport.
Breaking News correspondent reported that army units targeted dens and concentrations of insurgents in al-Qisieh, Maarat Masrin, Hbeit, Iblin, Saraqib, Kafarlata, Majdalia, Binnish, Sarmin, Maarat al-Nouman, al-Rami, Hish and Kafroumeh towns, adding that scores of gunmen were killed and their weapons destroyed.
Army repels the battle of Deir Ezzor and advances in al-Hweiqa
Army continued advancing in al-Hweiqa district and thwarted the so-called battle of "Volcanoes of the East" (Barakin al-Sharq), which has been conducted by militants.
Abu Osama al-Libi, Abdul Rahman al-Ojail, Mnuir al-Hajr, Mohamed Zuhdi al-Abdullah, Salah al-Abed and others of Al Qaeda members have also been killed after operations of the army in al- Hweiqa.
Our reporter confirmed that army carried out operations in the neighborhoods of Jbaileh, al-Mreiya, al-Mohasan and Cinema Fouad Street, stressting that dozens of gunmen were killed in these operations including "Taher Khalif Ramadan and Mohamed Shihab".
Finally, army forces managed to arrest an armed group in Nazlet al-Ruaisat in the city of Deir Ezzor.