Syria
Army Pounds Strongholds of Foreign Terrorists in Northern Syria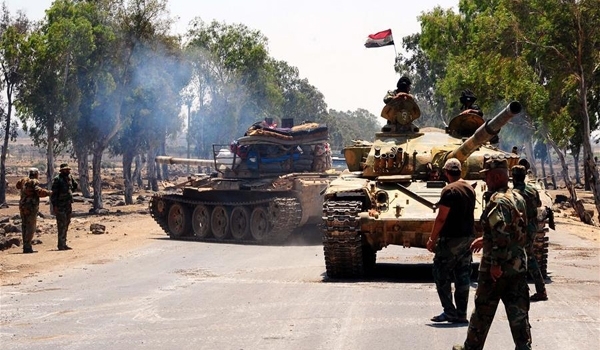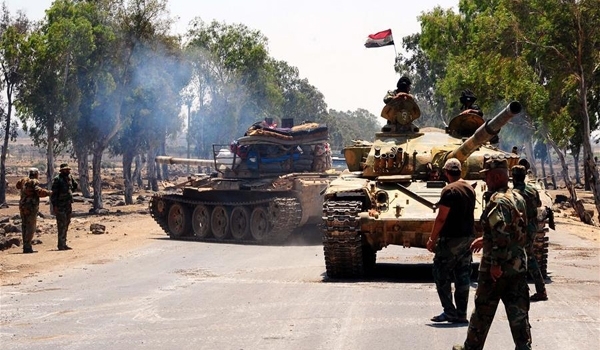 The Syrian army destroyed the strongholds of foreign terrorists in the demilitarized zone after repelling their heavy offensives from the region against Northern Hama and Southern Idlib.
The Syrian army units engaged in heavy clashes with the terrorists who had attacked them from al-Janabereh, Tal Othman and Tal Bazam in Northern Hama on Monday, killing and wounding several militants and repulsing their offensive.
They also targeted the Turkistani terrorists' positions in the villages of Badama and al-Najiyeh in response to their attacks in Western Idlib, smashing several of their strongholds and killing a number of them.
Meantime, the Syrian army forces launched missile and artillery strikes against the moves and positions of militants who intended to infiltrate into the army points from the town of al-Tah in Southern Idlib.
Several terrorist positions were destroyed and a large number of militants, including one of their ringleaders namely Mokhles al-Awaj, were killed in the attack.
In a similar development on Sunday, the Syrian army heavily pounded the military positions and movements of the terrorists in Northern Hama and Southern Idlib after warding off their offensive.
The Syrian Army attacks came in response to the Turkistani Islamic Party attacks on their positions in Northern Hama and Southern Idlib.
The Syrian Army heavily pounded the terrorists' movements and military positions in the villages of al-Sarmanieh, Havash, al-Hoveijeh to North and Northwest of Hama, inflicting heavy losses on them.
In Southern Idlib, the Syrian Army also fended off an attack by Tahrir al-Sham al-Hay'at (the Levant Liberation Board or the Al-Nusra Front) on their positions from al-Hobait and al-Kasik.
The terrorists sustained heavy losses in the failed attacks on the Syrian Army military positions.
The Syrian Army units also pounded the terrorists' military positions in the village of Safouhen in Jabal al-Zawiyeh in Southern Idlib, destroying one of their arms depot and military equipment.
The Syrian Army also destroyed the headquarters of the terrorists in Northern Hama and Southern Idlib as government troops continue to repel attacks by the militants in the same region.