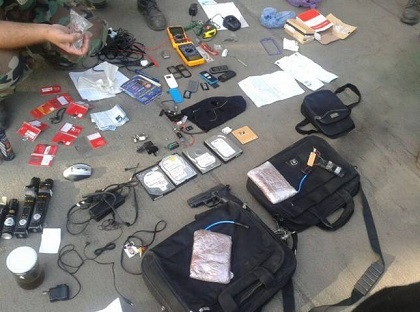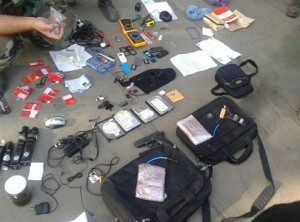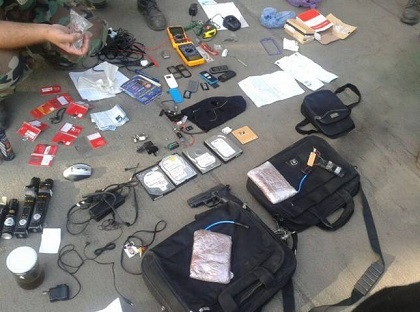 The Lebanese army said on Saturday that detainees – who were arrested during raids in the northern Akkar region of Fnaideq over the past week – confessed to the existence of a cave in the region where they used to prepare explosives.
The army said in a statement that as a result of the investigations of Alaa Kanaan and Mahmoud Khaled, members of a terrorist bombing who were recently arrested, it raided the cave in question where it discovered bombs prepared to be detonated.
Lebanon: Fnaideq cave in the NorthCDs, several SIM cards, mobile phones, documents, and documented lessons on how to manufacture explosives were also discovered in the place.
The National News Agency reported earlier on Saturday that the army raided the areas of Fnaideq, al-Kafroun, and Jisr Ain al-Banat, in the north eastern of Lebanon.
It also raided the nearby Aziziyeh encampment for Syrian refugees in searching for wanted suspects.
Local media also reported that the detainees confessed to providing suicide-bombers, including the Beirut's Duroy Hotel assailants, with explosives.
Lebanon: Fnaideq cave in the NorthOne of the detainees confessed on Thursday to storing a number of explosives and weapons in property he owns in Fnaideq.
Also Thursday, the army raided another residence in Fnaideq where it seized 42 dynamite sticks, 34 120-millimeter and 80-millimeter mortar shells, 14 propellant charges for the mortar shells, and 36 stun grenades.
On Wednesday, a Saudi suicide-bomber blew himself up at the Duroy Hotel when he detonated his explosives during a security raid. His accomplice, also a Saudi citizen, survived the blast and is being questioned at hospital.