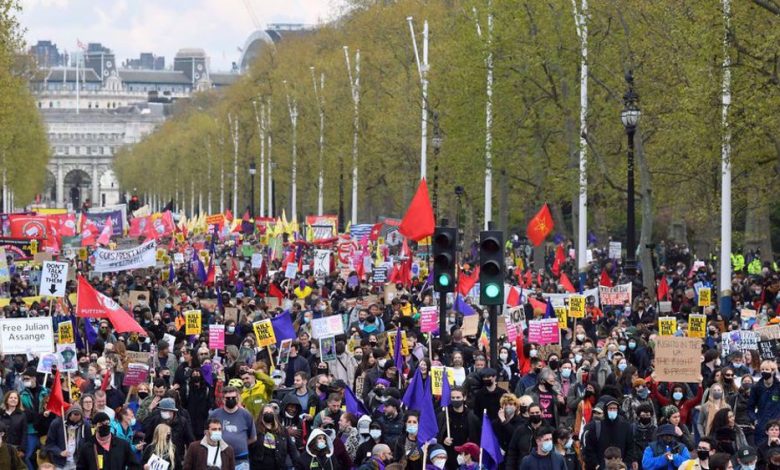 Thousands of people have taken to the streets in London to protest against new police, crime, sentencing and courts bill.
Protesters gathered in Trafalgar Square from midday Saturday. After that, they marched past Buckingham Palace then through Victoria, past the Department for Education and the Home Office, and finally across the river to Vauxhall Gardens.
The demonstrators demanded that the government reverse planned legislation, chanting "Kill the Bill."
Nine people were arrested and officers were "continuing to engage" with protesters who had gathered in a park in south London following the march.
Similar rallies were held in other cities across England and Wales, including Bristol, where there were clashes between protesters and police for several days in March.
Under the new legislation, the UK government seeks to increase police powers to block non-violent protests.
Pragna Patel, director of Southall Black Sisters, said, "The bill represents a massive assault on civil liberties and it's part of a wider trend on the part of the government to shut down free speech, shut down protest, shut down dissenting voices. In a sense it's an attack on a fundamental democratic value, which is the right to raise our voice in criticism, in protest, in dissent."
"We are really, really alarmed by the government's thrust towards authoritarianism. This represents one in a long line of draconian laws which the government is bringing in which will impact on our fundamental rights."
Demonstrators said they did not trust police to protect them, arguing the new laws would give authorities too much power to target protests such as those by Black Lives Matter and Extinction Rebellion.
"I am really scared by the fact that they want to make protesting an arrestable offense," 30-year-old therapist Jade Rea said.
"I don't think there's any justification for it because the idea of a protest is to disrupt and really bring to people's attention that something urgent is going on," she added.
London police came under harsh criticism in March over their handling of a vigil in memory of a murdered woman, Sarah Everard, whose suspected killer was a serving police officer.