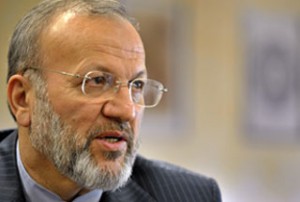 As Iran and the major world powers plan to discuss concerns over world issues including Iran's nuclear work, Foreign Minister Manouchehr Mottaki calls for full mutual confidence.
"Iran and the six countries require comprehensive confidence-building measures to discuss key issues and begin talks," Mottaki said in New York on Monday.
After Iran presented its new package of proposals to the five permanent members of the UN Security Council — Russia, China, Britain, France and the US — plus Germany (P5+1), Tehran and the six major powers agreed on October 1 as the date to hold wide-ranging talks addressing global issues along with Tehran's nuclear program.
Iran faces pressure to halt its nuclear enrichment activities, as some Western countries, spearheaded by the US and Israel, claim its program is aimed at building a nuclear bomb.
Tehran, however, has denied seeking nuclear weapons and has called for the removal of all weapons of mass destruction from across the globe.
Mottaki stressed the importance of setting a "common agenda" for talks between Iran and the West.
"Besides political, security, economic and social topics, Iran's proposed package includes global issues such as the nuclear case, non-proliferation [of nuclear weapons] and surveillance of the International Atomic Energy Agency on nuclear programs of countries," he said.
Mottaki arrived in New York on Monday to take part in the general debates of the 64th session of the UN General Assembly.
Iranian President Ahmadinejad, US President Barack Obama and Israeli Prime Minister Netanyahu are among heads of states that will address the General Assembly with quite different perspectives.