Iraq
Middle East
Asa'ib Ahl al-Haq Warns of US Plan for Long-Term Presence in Iraq
A senior member of Iraqi movement Asa'ib Ahl al-Haq - an offshoot of the Popular Mobilization Units or Hashd al-Shaabi - warned that the US is working on a long-term plan to stabilize its military presence in Iraq.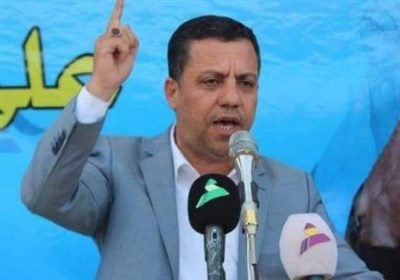 In an interview with Al Mayadeen, member of the political bureau of Asa'ib Ahl al-Haq, Saad al-Saadi, said Americans have devised strategies for the future of Iraq and are planning for long-term presence in the Arab country.
The main purpose behind the recent American moves in Iraq is to pave the way for the redeployment of US military forces in the country, he added, noting, "These moves are aimed at new dispatch (of US troops) to Iraq, not leaving that country."
Saadi further hailed the Iraqi Parliament's historic decision to ratify a bill on the expulsion of American forces from his country after the widespread crimes committed by Americans, stressing that the Iraqi nation is opposed to occupation and rejects the presence of American forces.
He finally condemned the US acts of interference in the formation of the new Iraqi government, saying Washington is brazenly intervening in the political processes in Iraq and mounting pressures on new prime minister-designate Adnan al-Zurfi in the course of cabinet formation.
In early January, Iraq's parliament passed a resolution telling the government to end the presence of foreign troops in Iraq and ensure they not use its land, air, and waters for any reason.
The move came after the assassination of IRGC Quds Force Commander Lt. General Soleimani, the deputy head of Hashd al-Shaabi Abu Mahdi al-Muhandis, and a number of others in a US airstrike in Baghdad.
They were killed in the strike by American drones near Baghdad International Airport in the early hours of January 3.