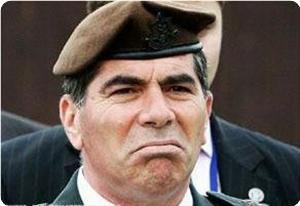 As the Israeli military chief Lt. Gen. Gabi Ashkenazi is heading to the US, dozens of organizations in America are planning protests against the head of the Israeli Defense Forces.
More than 25 American, Jewish and Israeli organizations plan to stage a protest against Ashkenazi in New York's Manhattan on Tuesday, the Jerusalem Post reported.
Protest organizers have described Ashkenazi as the "butcher of Gaza" where thousands of civilians were killed during Israel's three-week offensive in December 2008.
According to the IDF, the Israeli military chief will hold meetings with government, military, security and public diplomacy officials in Washington and New York beginning Monday.
Ashkenazi's visit to the US comes as US Vice president Joe Biden is starting a tour of the Middle East in a bid to rally support for resuming indirect peace talks between Israelis and the Palestinians.
The US-sponsored "proximity talks" have received opposition from both Palestinian movements, Hamas and Fatah.
Biden is expected to meet Israeli, Palestinian, Egyptian and Jordanian leaders starting on Monday.