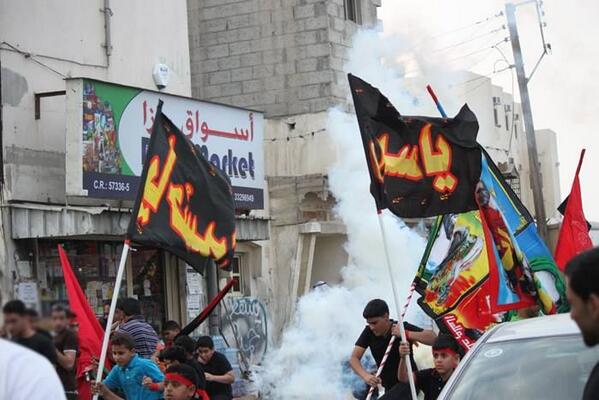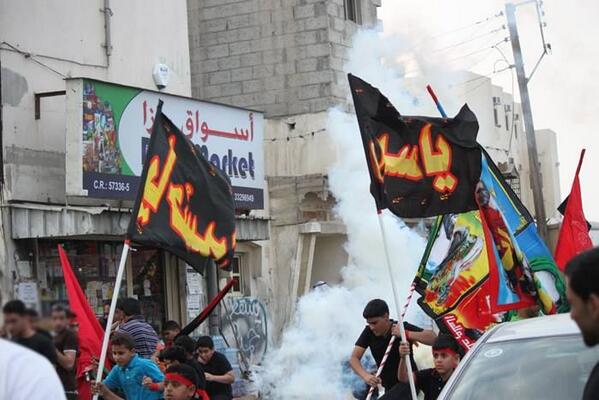 There in Bahrain…. a story of blood…revolution and endless meanings of patience mingled with heroism.
There in the island of pearls, the blood shines in face of the sword recalling the famous slogan: "Disgrace, how remote."
From Ashoura was the beginning, and to Imam Hussein [AS] was the pledge over the years: "At your service."
Under the title, "Karbala the Revolution of Religion, Brain and Volition", the Bahrainis are commemorating Ashoura this year [1436].
Ashoura flags in Bahrain On each night, worshippers sit and listen to meanings of the martyrdom in Karbala.
They learn how the oppressed raise the beacon of revolution, announcing that "blood is victorious."
Three years on the Bahraini uprising, the leader in al-Wefaq opposition party, Milad Majid tells that the roots of their revolution go back to Karbala.
In an interview with al-Ahed news website, Majid states: "Our revolution learned from Ashoura how to face the oppressors and dictators. We learned from Karbala meanings of justice and equality."
"From Imam Hussein [AS], we adopted the eternal slogan: 'Death with honor, away from disgrace and contempt," he said.
As he revealed that the al-Khalifa regime continues its crackdown against civilians, Milad detailed some aspects of the regime's brutalities against the Husseini gatherings. The violations include taking down flags and banners, attacking people in religious processions and storming religious centers.
"The martyrdom of Imam Hussain is an important symbol of the struggle against tyranny and oppression. Thus, the Husseini gatherings are naturally problematic for the Bahraini dictatorship."
In parallel, the opposition leader said: "I think that al-Khalifa aren't ashamed to attack the Husseini gatherings."
"Since the beginning of the revolution, they have destroyed more than 40 mosques for just being related to Shiites," he elaborates, pointing out that, "They even banned the Council of Religious Scholars."
bahraini attacks on Husseini gatherings
According to Milad, "the Bahraini authorities remove the black flags and Ashoura banners on a daily basis…they even fears the banners."
For this reason, and given the recent crackdown in Bahrain, the authorities are eager for Ashoura to be as muted as possible. Not only was the ban on public gatherings issued before Ashoura, but the regime has been targeting clerics and religious figures.
The Bahraini official also underlined that the main request of the revolutionaries in Bahrain is public right of self-determination and partnership in the country's political system. He said, "The Bahraini revolutionaries are after holding fair [parliamentary] elections with the highest level of public turnout."
As the political situation stagnates in Bahrain, it is no surprise that people will seek inspiration from Imam Hussein's revolution that they see as free from the stain of compromise and futility.