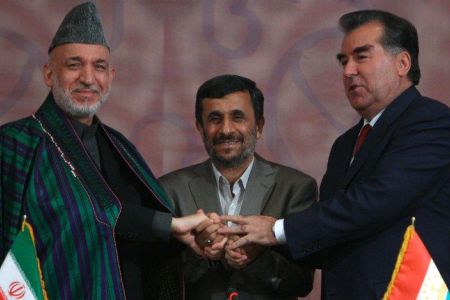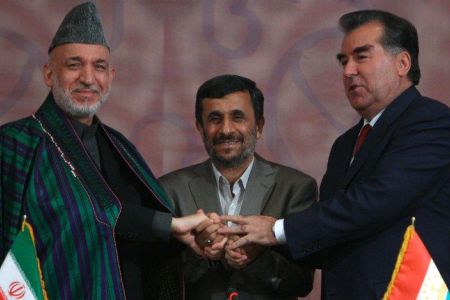 Iran's President Mahmoud Ahmadinejad says the presence of three strong regional powers will prevent the interference of foreign countries in Central Asia.
At the opening ceremony of the tripartite summit of Persian-speaking heads of states in Tehran on Thursday Ahmadinejad said that over the past few decades Afghanistan, Iran and Tajikistan had found 'something new in common.'
"Afghanistan [liberated] itself from the occupation of the former Soviet Union, Iran [freed itself] from Western and US domination, and Tajikistan gained independence."
The Iranian president went on to say that Iran, Afghanistan and Tajikistan prevent Western powers from mounting pressure on countries like India and China.
Ahmadinejad stressed the necessity of more cooperation among the three Persian-speaking states especially in the field of transportation, welcoming Tajik President Emomali Rahmon's suggestion to build a railway connecting Iran, Afghanistan, Tajikistan, Kyrgyzstan and China.
The Iranian president called for closer energy ties, saying, "Iran and Tajikistan are energy producers and Afghanistan needs energy."
Ahmadinejad went on to stress that the exchange of energy would reduce the expenses and therefore benefit all three countries.
The Iranian chief executive said Iran, Tajikistan and Afghanistan can help increase regional security through cooperation.
"Afghanistan's security crisis must be resolved by regional countries as experience has shown others (foreign powers) are incapable of solving regional issues."
The one-day tripartite summit of Persian-speaking heads of states kicked off in Tehran on Thursday with the participation of the presidents of Iran, Afghanistan, and Tajikistan.
At the end of summit Afghan President Hamid Karzai and Tajik President Emomali Rahmon singed a declaration with their Iranian counterpart on different political, cultural, economic and anti-terrorism issues.
According to the declaration, a commission consisting of Iranian, Tajik and Afghan officials will be established to study the progress of the summit's agenda and to report obstacles to the heads of the three Persian-speaking states.
The three presidents also reiterated the peaceful use of nuclear energy as the indisputable right of all signatories to Nuclear Non-Proliferation Treaty (NPT).