Assad: Gov't Serious in Foiling Enemies' Plots against Syrian Nation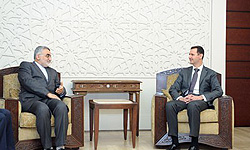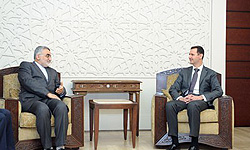 Syrian President Bashar al-Assad vowed to thwart all plots hatched by the western states and certain regional countries against the Syrian nation.
"The government is highly serious about saving the Syrian nation from the plots hatched by the enemies and will foil all conspiracies powerfully," Assad said in a meeting with an Iranian parliamentary delegation headed by Chairman of the parliament's National Security and Foreign Policy Commission Alaeddin Boroujerdi in Damascus on Monday.
During the meeting, Boroujerdi expressed concern about the crisis in Syria, and said, "The reality is that the war on Syria is a threat to regional peace and stability."
Yet, the prominent lawmaker reiterated that "the Zionist regime and the US will be the real losers of the proxy war against the Syrian nation".
He also referred to a meeting held in Istanbul last week under the title of 'Friends of Syria', and said such meetings attended by a number of "enemies" of Syria are fruitless and the sharp decline in the number of the countries participating the meeting from 130 states in the previous meetings to 11 states indicates the failure of this policy in the region.
The meeting of the so-called 'Friends of Syria' began on Saturday with talks among top diplomats from the 11 countries: the United States, Britain, Qatar, Saudi Arabia, Jordan, Egypt, the United Arab Emirates, Italy, Germany, France and Turkey.
The group then held a working dinner with key members of the Syrian opposition, including the head of the Syrian National Coalition, Ahmed Moaz al-Khatib.
The meeting ended with a decision to continue arms assistance to the Syrian opposition groups which eventually would lead to massacre of the innocent Syrian people.
A senior Syrian opposition figure underlined that the meeting of the 11-member group of the so-called 'Friends of Syria' in Istanbul produced no achievements which would lead to the settlement of the Syrian crisis.
"The Friends of Syria meeting had no new achievement or breakthrough for the Syrian crisis and was similar to the other meetings which were held in the Arab and European states," Secretary-General of Syria's National Coordination Committee for Democratic Change Hassan Abdulazim was quoted as saying by the Arabic-language channel of Russia Today on Monday.
He said that the 'Friends of Syria' group wants to deceive the Syrian dissidents into this feeling that the developments in Syria is important to the group, and that the group is a friend of the dissidents.