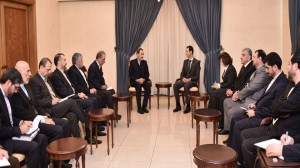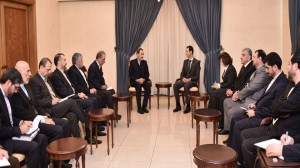 Syrian President Bashar al-Assad received on Sunday Iran's Supreme Leader's Senior Advisor Ali Akbar Velayati and Iranian Assistant Foreign Minister Hossein Amir Abdullahian and the accompanying delegation stressing that Syria and its friends are bent on moving ahead with fighting terrorism in all its forms.
This resolve to fight terrorism will continue despite the recent escalation by some hostile countries who, while claiming to be fighting terrorism, have beefed up funds and armaments to the terrorist gangs, President al-Assad said.
He noted that this escalation has been prompted by the Syrian people's resilience over years and the Syrian Arab army's substantial achievements against terrorism, supported by friends mainly Iran and Russia, according to SANA.
The President made it clear that Syria and its friends are certain that eliminating the terrorists will be the primary step towards establishing stability in the region and the world and the real entry for the success of any political solution reached by the Syrians.
Velayati, in turn, affirmed the determination of the Islamic Revolution's Leader and the Iranian leadership to continue supporting Syria's government and people given that the war they are fighting against terrorism is crucial for the region and the world.
He expressed Iran's appreciation of the "exceptional" steadfastness of the Syrian people and leadership in the face of the "fierce" war waged against them.
In the same context, Velayati met with Deputy Prime Minister, Foreign and Expatriates Minister Walid al-Moallem, who said the recent developments on the ground have revealed those who are supporting terrorism and those who are fighting it.