Syria
Assad: Syrian People Aware of Schemes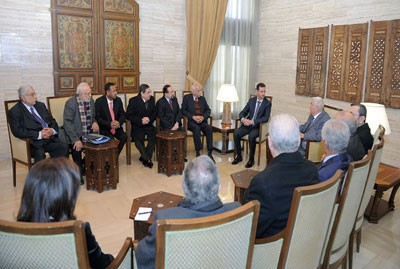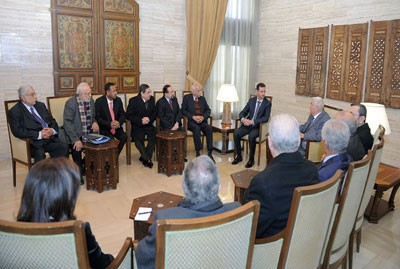 Syrian Presidnet Bashar Al-Assad reassured Thursday his opposition to any foreign intervention and pointed out the Syrian people's adherence to its unity and Arabism despite all difficulties, as well as its awareness of what is being fabricated against its country and security.
In a meeting with a delegation from the Arab Popular Initiative for Opposing Foreign Intervention, Al-Assad clarified that the support of the Arab and national people consolidates the Syrians' immunity and faith in the future.
The two parts also discussed the latest developments in Syria.
For its part, the delegation expressed its complete support to Syria and its people against the fabrications they are being exposed to, and that aim at fragmentizing the region and resolving the Arab-israeli conflict for the zionist enemy's benefit.
The delegation further assured that "Syria is not just for the Syrians but for all the Arabs, due to its history in Arabism and resistance," and indicated that "targeting Syria means targeting the Arab and resistance project… it is the duty of the Arab peoples to confront what Syria is being exposed to."
The "Arab Popular Initiative for Opposing Foreign Intervention" delegation included: The Arab National Conference secretary-general, head of the Arab-International Forum for the Support of the Resistance, the Arab Parties Congress secretary-general of the and his deputies, the National Islamic Conference assistant general coordinator, the Popular Mobilization Organization general coordinator, head of the Arab Center for Communication and Solidarity, the Pan-Arab Forum secretary-general, and a number of initiative members.