Syria
Assad to Brahimi: Any Initiative Should Be Based on Ending Terrorism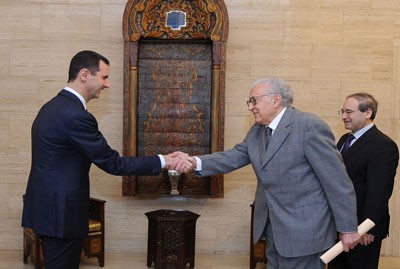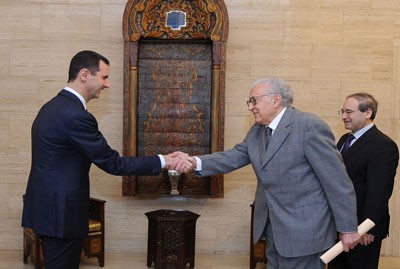 As he received UN envoy Lakhdar Brahimi, Syrian President Bashar al-Assad stressed on Sunday that any initiative of political process should be essentially based on principle of ending terrorism.
State news agency, SANA, reported that the meeting between Assad and Brahimi tackled the developments in Syria and the efforts exerted by the UN envoy and the results of his latest tour to a number of region states.
"President al-Assad stressed to Lakhdar Brahimi that Syria supports the efforts of the UN envoy, and it is open to any devoted efforts for finding a political solution to the crisis based on respecting Syria's sovereignty and rejecting any foreign interference," SANA said.
"President al-Assad clarified that any initiative or political process should be essentially based on the principle of ending terrorism and the requirements to achieve that through the commitment of the countries involved in supporting, arming and harboring the terrorists in Syria to stop doing these sorts of acts, the agency added.
Following the meeting, Brahimi urged the two sides in Syria's conflict to declare unilateral truces for this week's Muslim holidays.
"I appeal to everyone to take a unilateral decision to cease hostilities on the occasion of Eid al-Adha and that this truce be respected from today or tomorrow," the UN envoy told reporters.
MOALLEM-BRAHIMI MEETING 'CONSTRUCTIVE'
Earlier on Saturday, Foreign Minister Walid al-Moallem received Brahimi.
Moallem reviewed with Brahimi, and the accompanying delegation the developments and the efforts currently exerted by the UN in Syria on the humanitarian level and regarding Brahimi's mission, SANA said.
A statement issued by ministry following al-Moallem and Brahimi's meeting described the talks as "constructive" and "serious".
It said both sides discussed means of developing cooperation in this regard and what Syria was providing to facilitate Brahimi's mission.
According to the statement, talks also touched upon what is required from the rest of the parties of the conflict.
During the meeting, Brahimi presented a review of the most prominent outcomes of the talks he held during his local and regional tour which included a number of the countries in the region.