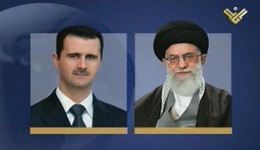 President Bashar al-Assad sent a message to Islamic Revolution Supreme Leader Imam Sayyed Ali Khamenei, in which the Syrian leader voiced confidence of victory during the current conflict, stressing on the strategic alliance with the Islamic Republic.Supreme Leader and President Assad
The message was handed by Prime Minister, Dr. Wael al-Halqi, on Tuesday to Advisor of the Supreme Leader, Ali Akbar Velayati, official news agency, SANA, reported.
President Assad stressed there is a joint will between Syria and Iran to go into strategic battles in favor of the axis of resistance.
He voiced confidence of victory, thanks to strategic and steady allies like Iran.
During the meeting with Velayati, Halqi explained that the Syrian people managed to confront all challenges thanks to the support of friends.Halqi with Velayati
"Under the leadership of President Bashar al-Assad and Sayyed Ali Khamenei, we will continue and develop joint work, particularly in the economic, commercial and developmental domains," said the Syrian PM.
For his part, Velayati stressed that the distinguished and strategic relations between the two countries entail greater responsibility to maintain and develop these relations in all fields, expressing wishes for the Syrian people to emerge from the current crisis as soon as possible.