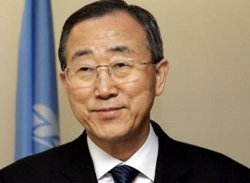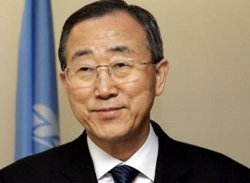 Secretary-General Ban Ki-moon Wednesday called on Libyan leader Colonel Muammar Qaddafi's government to cease hostilities immediately, warning that a potential assault on the rebel-held city of Benghazi could endanger huge numbers of civilians.
"Those responsible for the continuous use of military forces against civilians will be held accountable," a statement issued by his spokesperson said, as media reported that Qaddafi's forces had intensified offensives in the east and the west of the North African country against what began a month ago as mass protests by peaceful civilians seeking his ouster.
"The secretary-general is gravely concerned about the increasing military escalation by government forces, which include indications of an assault on the city of Benghazi. A campaign to bombard such an urban centre would massively place civilian lives at risk," the statement added of the eastern city that has become the main base of anti-Qadhafi forces.
Ban is keeping in close touch with "the critical discussions" under way in the Security Council over measures aimed at protecting civilians.
Security Council members are holding consultations over an Arab League request that it impose a no-fly zone against Qaddafi's air force, which has been pounding cities held by his opponents.
The 15-member body last month imposed sanctions against the Libyan authorities, placing an arms embargo on the country and freezing the assets of its leaders, while referring the violent repression of civilian demonstrators to the International Criminal Court (ICC) in The Hague, Netherlands.
ICC prosecutor Luis Moreno-Ocampo subsequently announced that he is opening an investigation into Qaddafi, some of his sons and members of his inner circle for crimes against humanity in repressing peaceful protesters in violence that has claimed hundreds or even thousands of lives, according to media reports. Ban said Qaddafi lost his legitimacy when he declared war on his people.