Europe
At least 60 killed in wildfire raging near Athens, people flee to beaches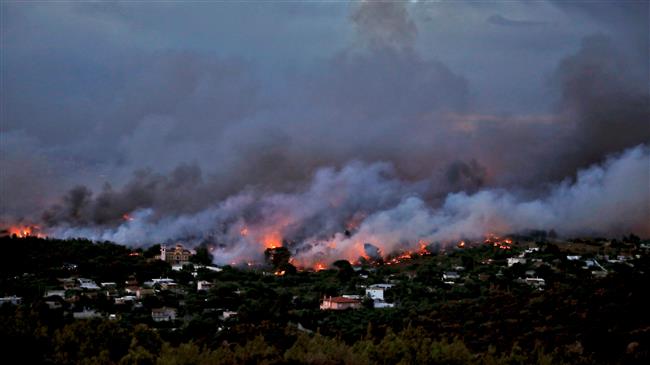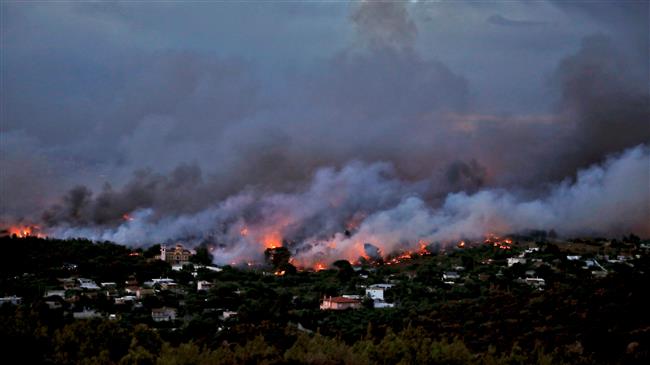 At least 60 people were killed and about 170 others wounded as a wildfire swept through woodlands and villages near the Greek capital of Athens, trapping families with children behind walls of smoke and flames as they tried to flee to the beach.
Emergency crews found one group of 26 victims, some of them youngsters, lying close together in a field just 30 meters from the sea near Mati in eastern Greece.
"They had tried to find an escape route, but unfortunately these people and their kids didn't make it in time. Instinctively, seeing the end nearing, they embraced," Nikos Economopoulos, the head of Greece's Red Cross, told Skai TV.
The fire was by far Greece's worst since flames devastated the southern Peloponnese Peninsula in August 2007, killing dozens. It broke out in Mati late Monday afternoon and was still burning in some areas on Tuesday morning.
Mati is in the eastern Rafina region, a popular spot for Greek holiday-makers — particularly pensioners and children at camps — 29 km east of the capital.
Port authorities said they had found four bodies in the sea, including three women and a child who had apparently tried to escape the flames.
There were fears the death toll may rise further, as people remained unaccounted for.
Interior Minister Panos Skourletis said rescue workers were "still searching if there are more missing."
Of the injured, 11 people were in serious condition, officials said.
In total, coastguard and other vessels rescued 696 people who had fled to beaches. Boats plucked another 19 people alive from the water.
"It's a national tragedy," civil protection agency official Ioanna Tsoupra told public broadcaster ERT.
By dawn Tuesday, fires were still burning around the capital, while others broke out elsewhere during the night.
Authorities were trying to evacuate inhabitants, government spokesman Dimitris Tzanakopoulos said.
"Fifteen fires had started simultaneously on three different fronts in Athens," he said, prompting Greece to request drones from the United States "to observe and detect any suspicious activity."
Cyprus and Spain offered assistance after Greece said it needed air and land assets from European Union partners.
Greek Prime Minister Alexis Tsipras, who cut short a visit to Bosnia to return home, said "all emergency forces have been mobilized" to battle the fires along at least three fronts.
"I am really concerned by the parallel outbreak of these fires," he said, with officials raising the possibility they could have been started deliberately by criminals out to ransack abandoned homes.
Wildfires are not uncommon in Greece, and a relatively dry winter helped create the current tinder-box conditions.
Forecasters said conditions would remain challenging on Tuesday, although showers and falling temperatures were expected in Athens.
(Source: Agencies)