Afghanistan
At Least Six Killed in Afghanistan's Violence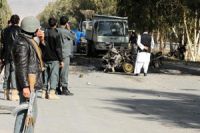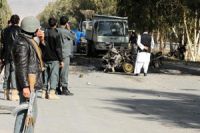 At least six people have been killed and 10 others injured in acts of violence in Afghanistan's southern Province of Kandahar.
According to Press TV, Zia Durani, the Spokesman for the provincial police chief, said militants detonated a bomb attached to a motorcycle in Spin Boldak district, located 370 kilometers south of the capital, Kabul, at around 12:45 p.m. local time on Thursday, injuring two civilians.
He added that a gun battle ensued once police forces reached the area to inspect the situation.
Durani said "The blast and the gun battle claimed six lives, including two militants, one police constable and three civilians."
The police official added "Eight more security personnel, including three from the national police and five from the border police force, sustained injuries in the violent incident."
The US and its allies invaded Afghanistan shortly after the September 11, 2001 attacks in New York City as part of Washington's so-called war on terror.
Although the US-led invasion removed the Taliban from power, insecurity continues in Afghanistan.