Europe
"Athens should repay its debts if it wishes to stay in the eurozone": German and French leaders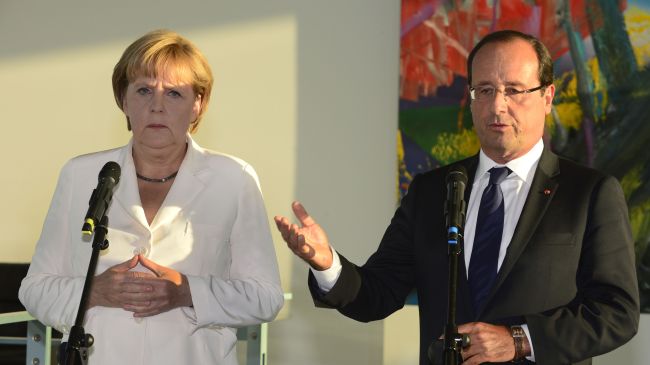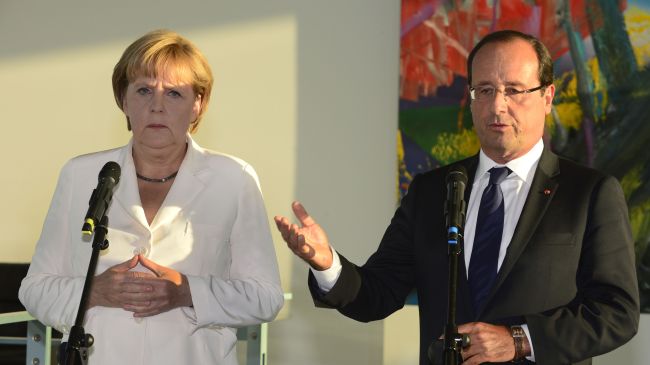 German and French leaders have reiterated the importance of Greece sticking to its financial commitments, saying Athens should repay its debts if it wishes to stay in the eurozone.
Speaking after a meeting in Berlin to discuss the eurozone crisis and Greece in particular, German Chancellor Angela Merkel and French President Francois Hollande urged the debt-ridden country to continue with economic reforms to clear its huge debts, AFP reported.
"It is important for me that we all stick to our commitments…but I will encourage Greece to continue along its path of reforms," Merkel said.
The French president, moreover, pointed out that it is up to the Greek to either choose the eurozone or default on their debts.
"It's up to the Greeks to make the necessary efforts so that we can achieve this goal," Hollande said, referring to the country's continued stay in the single-currency bloc.
The officials made the remarks a day after Greek Prime Minister Antonis Samaras asserted that Greece needed "a little breathing space" to make spending cuts and reforms that are a condition for the next tranche of an EUR-130-billion (USD-161-billion) bailout package.
Samaras is starting a European tour to get his message across, traveling to Berlin on Friday to meet with the German chancellor. The Greek premier is also scheduled to meet with the French president in Paris on Saturday.
Greece has been at the epicenter of the eurozone debt crisis and is experiencing its fifth year in recession, caused by the harsh government-introduced austerity measures.
The country has promised to cut more than USD 14 billion off its spending over a two-year-long period starting from 2013 in order to get bailed out by other eurozone countries and the International Monetary Fund (IMF).
Next month, a team of auditors from the European Commission, the IMF, and the European Central Bank will present their findings on whether Greece has done enough to receive further financial aid.
The drawn-out eurozone debt crisis, which began in the country in late 2009 and reached Italy, Spain, and France last year, is viewed as a threat, not only to Europe, but also to many of the world's more developed economies.