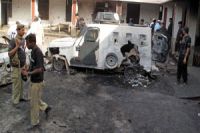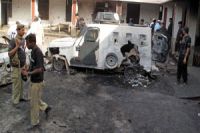 At least eight people including three policemen have been killed in an attack on a police station in Pakistan's northwestern tribal region of North Waziristan near the Afghan border.
According to AFP, the incident took place on Monday when the militants, armed with explosive vests, guns, grenades and rockets, stormed the police station in Kaki district, located in southwest of Bannu town.
Khyber Pakhtunkhwa Province information minister, Mian Iftikhar Hussain said "Three militants attacked the Kaki police station. They killed three policemen and two civilians."
Repots say two attackers were also among the those killed.
Medics said that a wounded civilian later died of his injuries in hospital.
Bannu hospital chief Mohammed Iqbal said "There were nine injured, including six policemen and three civilians. A wounded civilian later expired."
Police said that the police station, a nearby mosque, a house and three shops were damaged during the attack that lasted around an hour.
Pakistani militant group Tehrik-e-Taliban claimed responsibility for the attack.