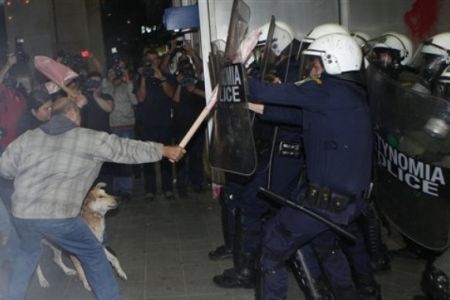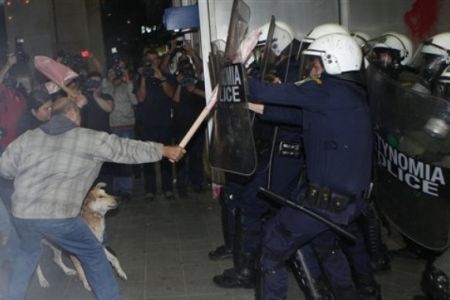 Greek workers protesting against the government's austere economic policy have clashed with police outside the Finance Ministry in the capital, Athens.
The workers, mostly from the country's shipyards, demanded improved benefits for their unemployed colleagues, reports indicate.
The Greek government said Thursday that the debt-ridden country will meet its deficit-busting targets this year.
Greece has been hit by numerous strikes and protests over cutbacks intended to help improve its troubled economy in recent months.
The International Monetary Fund (IMF) and the European Union have extended the cash-strapped country a three-year package of rescue loans to save it from defaulting on its debts. In return, the Greek government has implemented harsh austerity measures, including cutting civil servants' salaries, hiking taxes and freezing pensions.
The country was on the brink of bankruptcy in May, and was saved after its European partners and the IMF agreed to provide a total of 130 billion euro ($185 billion) in rescue loans over three years, the Associated Press reported.
The socialist government of Greece has applied painful austerity measures. Among these initiatives were a freeze on most public employments and non-renewal of hiring of contract workers.
Similar clashes were reported last month when riot police tried to disperse the Greek Culture Ministry contract workers who had blocked the entrance to the Acropolis.
Economic policies have caused a wave of general strikes and demonstrations this year in Greece. The country has the second biggest budget deficit in the euro zone.