World News
Australia postpones activities with Thailand in response to coup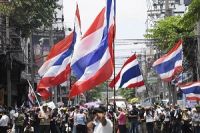 The Australian government continues to have grave concern about the situation in Thailand after the coup on May 22 and has postponed three activities planned for the coming weeks in Thailand, a statement of the Department of Foreign Affairs and Trade (DFAT) said on Saturday.
According to Xinhua, the government has registered the concerns to authorities in Bangkok through Australia's ambassador to Thailand and the Thai Embassy in Canberra.
"In line with our concerns, Australia is reducing our engagement with the Thai military and will lower the level of our interaction with the Thai military leadership," the statement said.
Australia has postponed three activities including a military operations law training course for Thai military officers; a reconnaissance visit for a counter improvised explosive device training exercise; and a reconnaissance visit for a counter terrorism training exercise.
"We will continue to review defense and other bilateral activities," the statement said.
Australia has also put in place a mechanism to prevent the leaders of the coup from traveling to Australia.