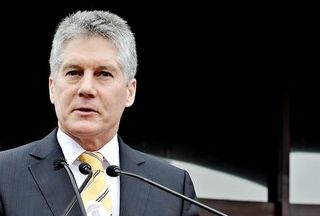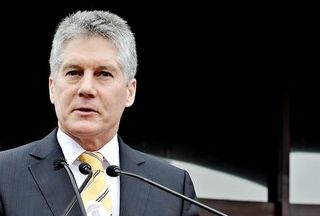 Less than a week after the UN Security Council imposed a fourth round of sanctions against Iran, Australia says it is planning unilateral punitive measures.
Australian Foreign Minister Stephen Smith said Tuesday that the 'autonomous' sanctions would target a bank and a shipping company, as well as blacklisting a commander of the Islamic Revolution Guards Corps (IRGC).
"These new measures put Australia at the forefront of efforts to persuade Iran to reverse its current path of confrontation with the international community," Smith said in a statement.
Smith named the two entities as Iran's national bank, Bank Mellat, and the Islamic Republic of Iran Shipping Line (IRISL).
"The individual is General Rostam Qasemi, the commander of Khatem ol-Anbiya Construction Organization, a company owned by the Islamic Revolutionary Guard Corps and listed in Resolution 1929," the statement added.
Canberra has imposed unilateral sanctions against 20 Iranian individuals and 18 organizations from Iran, since October 2008.
The move comes amid escalated US and European efforts to mount pressure on Tehran over Western allegations that the country's nuclear program may not be entirely civilian.
Russia, Iran's longtime energy and trade partner that helped build Iran's nuclear reactor in the southern city of Bushehr, joined the US-led sanctions campaign after cutting deals with Washington.
However, the veto-wielding UNSC member warned other states against the imposition of unilateral sanctions against Iran.
Moscow says such measure would be unacceptable as countries facing Security Council sanctions cannot under any circumstances be subjected to one-sided sanctions imposed by government bypassing the Security Council.
Iranian officials say the UNSC Resolution 1929, which broadens financial and military sanctions, will not affect the country's economy, but have criticized the move as a bad response to recent trilateral pro-diplomacy efforts, which could have rendered the sanctions unnecessary
Iran, Brazil and Turkey issued a nuclear fuel swap declaration on May 17, based on which Tehran announced readiness to exchange 1,200 kg of its low enriched uranium on Turkish soil for fuel for a medical research reactor.