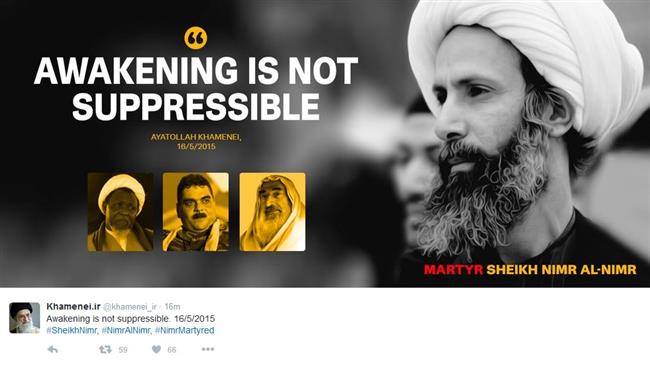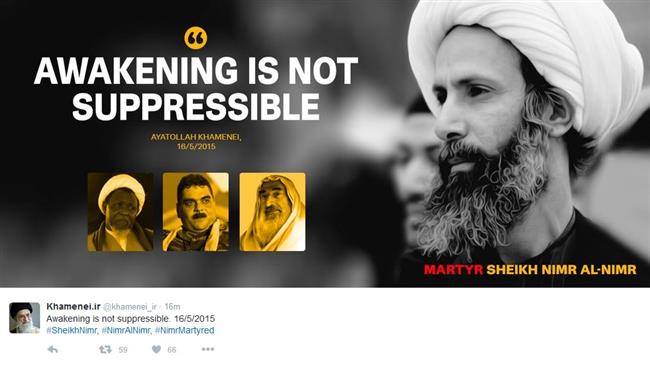 Following Saudi Arabia's execution of prominent Shia cleric Sheikh Nimr al-Nimr, the official Twitter page of Leader of the Islamic Revolution Ayatollah Seyyed Ali Khamenei has posted a tweet reading, "Awakening is not suppressible."
The text, which was part of a speech delivered by the Leader on May 16, 2015, was inscribed next to a photo of Sheikh Nimr and above portraits of Sheikh Ahmed Yassin, the former leader of the Palestinian resistance movement Hamas who was killed in an Israeli air strike in 2004; former high-ranking Hezbollah member Samir Qantar, who was killed during an Israeli raid in December, 2015; and prominent Nigerian Shia cleric Sheikh Ibrahim al-Zakzaky, who was recently detained in a raid by army forces.
On Saturday, the Saudi Interior Ministry announced that Sheikh Nimr along with 46 others, who were convicted of being involved in "terrorism" and adopting a "Takfiri" ideology, had been put to death.
Sheikh Nimr, a critic of the Riyadh regime, was arrested in 2012 in the Qatif region of Shia-dominated Eastern Province, which was the scene of peaceful anti-regime demonstrations at the time.
He was charged with instigating unrest and undermining the kingdom's security, making anti-government speeches and defending political prisoners. He had rejected all the charges as baseless.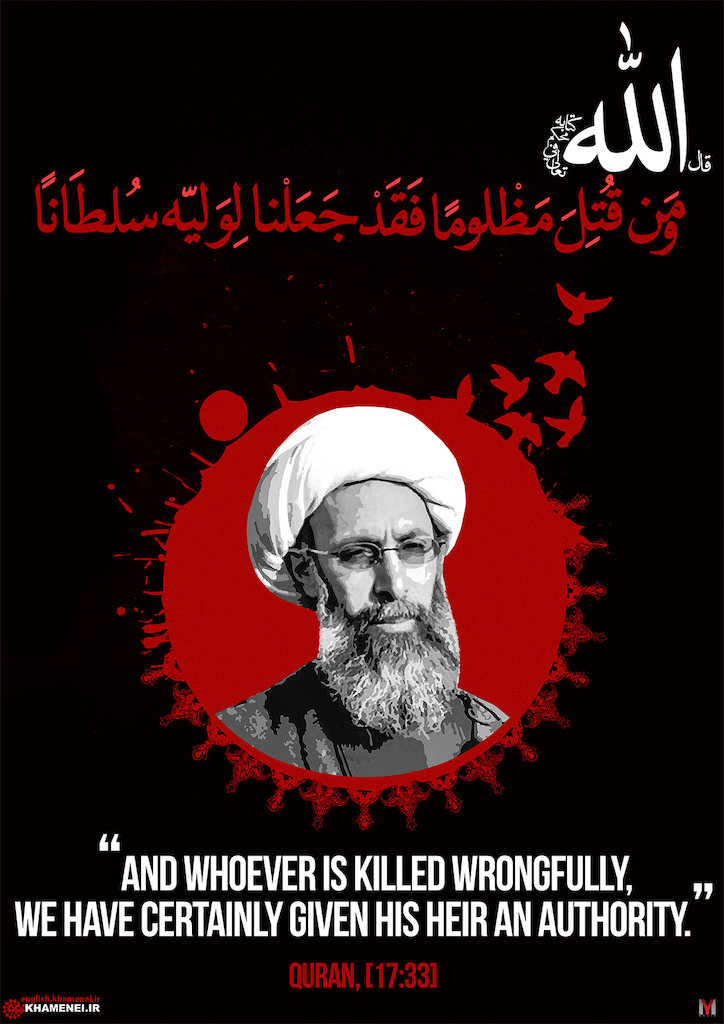 Saudi Arabia's Eastern Province has been the scene of demonstrations since February 2011, with protesters demanding reforms, freedom of expression, release of political prisoners and an end to widespread discrimination against people of the oil-rich region. Several people have been killed and many others injured or arrested during the rallies.
International rights bodies have criticized Saudi Arabia for its grim human rights record, arguing that widespread violations continue unabated in the country.
Meanwhile, Ayatollah Khamenei's official English website, english.khamenei.ir, carried a large image of Sheikh Nimr with the words "What the Quran promised."