North America
Leader Ayatollah Khamenei: Iran Will Never Capitulate to US
Leader of the Islamic Ummah and Oppressed Imam Ayatollah Seyed Ali Khamenei reaffirmed Iran's commitment to standing against the US and Zionism, stressing that the Islamic Republic will never give in to pressures from the enemies.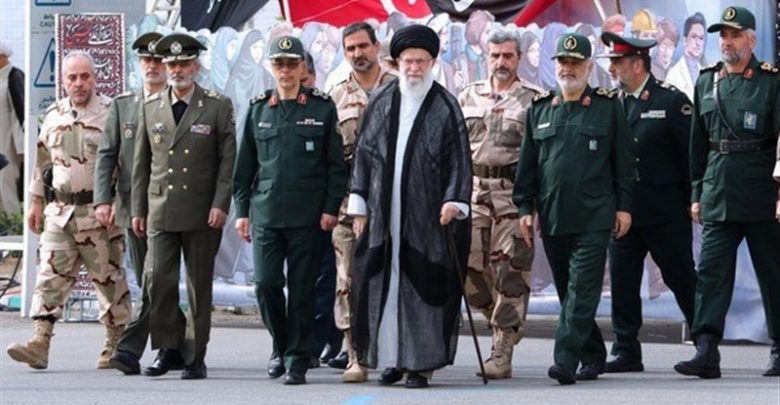 In an address to the graduation ceremony of IRGC cadets in Tehran on Sunday, Ayatollah Khamenei slammed the US and the Zionists for "sucking the blood" of nations, warmongering activities, causing catastrophes, and treating other nations with cruelty and suppression.
The Leader emphasized that Iran, according to the religious teachings, is duty bound to counter the enemies and will never capitulate to the US and various pressures from the adversaries.
Ayatollah Khamenei also highlighted the growing dignity of the Islamic Revolution Guards Corps (IRGC) inside and outside Iran, stressing that the US' hostile and antagonistic policies resulted in the promotion of the IRGC's dignity.
Referring to a verse from holy Quran about the need for constant preparedness in the face of enemies, the Leader said Almighty God has promised to create a "deterrent fear" in the hearts of enemies on Muslims.
Highlighting the necessity for increasing readiness, Ayatollah Khamenei called on the IRGC forces to create a powerful, rigid and inclusive organization and constantly boost their scientific, expert, tactical, strategic and operational power with tireless efforts.
The Leader further stressed the need for the employment of all kinds of defensive, operational and intelligence equipment to counter the enemies, adding, "However, such equipment must be invented and manufactured locally, and be so versatile that would meet all demands on the ground, in the sky, space, sea, borders and inside the country, and of course, even the virtual space is among the necessary tools today."
Elsewhere in his address, Ayatollah Khamenei hailed the large gathering of people in the Arbaeen mourning ceremonies as an example of true power, saying the procession in which millions of Muslim pilgrims travel to the Iraqi city of Karbala is a movement towards "the summit of glory, devotion and martyrdom."
Arbaeen, one of the largest religious gatherings in the world, comes 40 days after Ashura, the martyrdom anniversary of Imam Hussein (AS), the third Shiite Imam.
Each year, a huge crowd of Shiites, including Iranians, flock to the Iraqi city of Karbala, where the holy shrine of Imam Hussein (AS) is located, to perform mourning rites.
Last month, Ayatollah Khamenei said the great march of Arbaeen is a divine sign that indicates God's will to help the Islamic community, noting, that the Iraqi people's welcoming of Arbaeen pilgrims and their hospitality as "unparalleled" and expressed gratitude to the Arab country's nation and government for their moves to prepare the ground for the "massive" event.