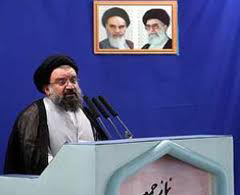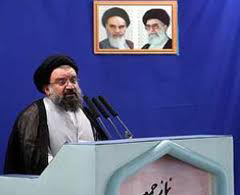 Tehran's provisional Friday Prayers Leader Ayatollah Sayyed Ahmad Khatami lauded the resistance shown by Syria against the western pressures, noting that enemy pressures and plots against Syria are because of the country's resistance against the Zionist regime of "Israel".
"Syria is also paying the price for its all-out resistance against the Zionist regime," Ayatollah Khatami said, addressing a large congregation of worshippers on Tehran University Campus on Friday.
Ayatollah Khatami, a member of the presiding board of the Assembly of Experts, said while Iran backs the reform process in Syria, it also believes that any foreign intervention in this country will only serve to deteriorate the situation.
Arrogant powers are frustrated that the Syrian government, backed by its nation, has so far withstood all Western tensions, he added.
The senior cleric further warned arrogant powers and Arab regimes, particularly Saudi Arabia (KSA), that they will be the first to suffer the consequences of any foreign military intervention in Syria.
He further stressed that Saudi Arabia's role in relation to Syria has fanned the flames of unrest in Middle Eastern country.
Criticizing KSA's divisive policies in this region, Ayatollah Khatami said Saudi Arabia has turned into a center of sedition and machination in this region, and it has also become a home – a safe haven – for dictators.
Moving on to Bahrain, Ayatollah Khatami criticized a number of Arab regimes' indifference towards the situation there, and the crimes which are being committed by the al-Khalifa regime against the Bahraini people. Ayatollah Khatami also emphasized that Saudi Arabia has sent in military forces to Bahrain, to suppress and subdue the Bahraini people.