Iraq
'Ayatollah Sistani's wise remarks in meeting with Pope showed dignity of Islam'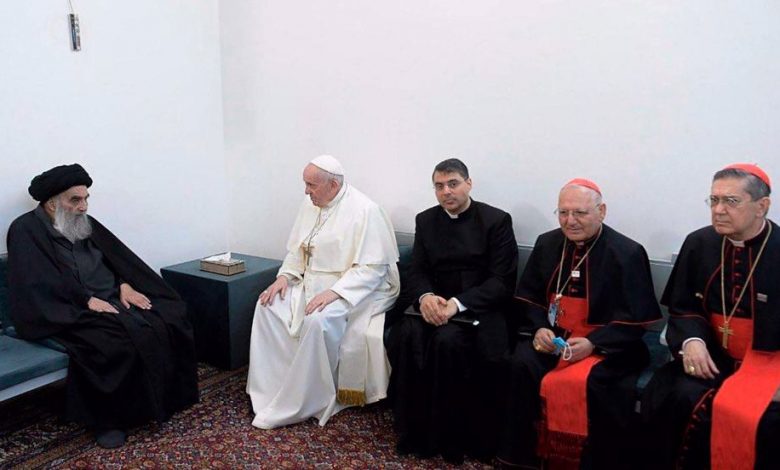 An senior official at the office of Leader of the Islamic Revolution Ayatollah Seyyed Ali Khamenei says "wise" remarks by Iraq's prominent Shia cleric Grand Ayatollah Ali al-Sistani during his recent meeting with the Pope showed "the dignity of Islam."
Hojjatoleslam Mohsen Qomi, the vice president for international relations at the office of Ayatollah Khamenei, praised Ayatollah Sistani's vigilance in his meeting with the head of the Roman Catholic Church in Iraq last week.
The official said on Wednesday that Ayatollah Sistani's emphasis on major global issues, including the occupation of Palestine, was actually his "rejection of the plot of normalization" with the Israeli regime.
He added that the Ayatollah's dissatisfaction with poverty, deprivation, discrimination, and sanctions and his emphasis on the fact that religious leaders should fulfill their duties to counter such challenges can be a clear example of the Quranic teaching of common understanding between the leaders and followers of the Abrahamic religions.
He also expressed hope that the meeting would help boost cooperation between Islam and Christianity.
A statement released by Ayatollah Sistani's office said that during the meeting with the Pope, the top cleric talked about "the injustice, oppression, poverty, … suppression of basic freedoms and the absence of social justice, especially the wars, acts of violence, economic blockade, displacement and so on, especially the Palestinian people in the occupied territories."
Ayatollah Sistani also "indicated the role that the great religious and spiritual leaders should play in curbing these tragedies, and what is hoped for by urging the concerned parties – especially those with great powers – to prioritize reason and wisdom and to reject the language of war" while stressing the importance of "concerted efforts to consolidate the values of harmony, peaceful coexistence and human solidarity in all societies, based on fostering rights and mutual respect among followers of different religions and intellectual trends."
Pope Francis held closed-door talks with Ayatollah Sistani on Saturday on the second day of his visit to the Arab country.
The meeting took place at Ayatollah Sistani's residence in the holy city of Najaf on Saturday morning.
The Pope concluded his four-day trip to Iraq on Monday.