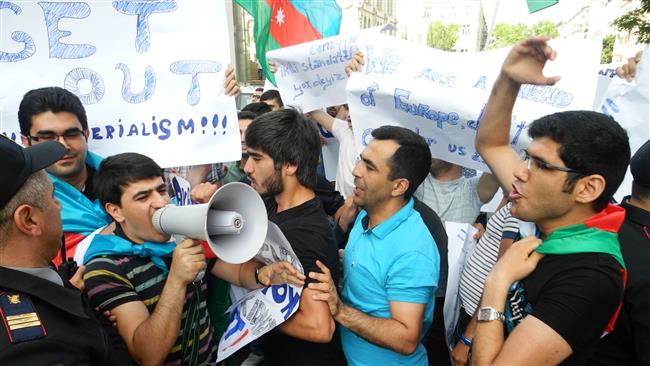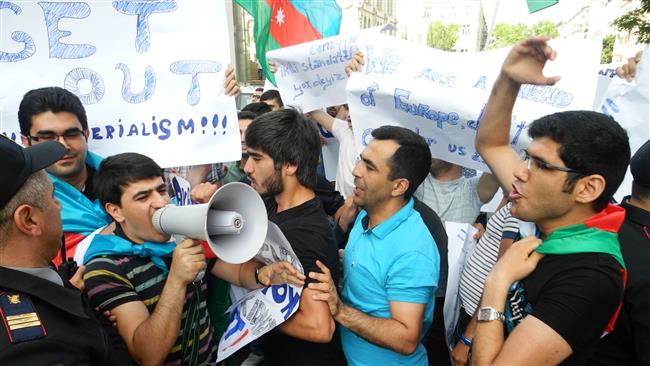 Pro-government Azerbaijani demonstrators have rallied against the European Union (EU) policies toward their country.
Members of Azerbaijani youth organizations took part in the protest rally in front of the EU office and the British embassy in the capital city of Baku on Thursday to call on the EU to abandon the policy of "double standards" it has adopted towards Azerbaijan.
The participants chanted slogans such as "Shame on the European Union," "Civil society ignores double standards," and "Leave Azerbaijan alone."
Over a million Azerbaijanis became refugees and internally displaced due to Armenian aggression against the neighboring South Caucasus country, the protesters said, adding, "However, EU and the European Parliament prefer no to talk about that."
The conflict between governments in Yerevan and Baku began in 1988, when Armenia made claims on the territory of Nagorno-Karabakh, which is located in Azerbaijan, but largely populated by Armenians. Ethnic Armenian forces took control of the enclave, which accounts for 16 percent of the Azerbaijan territory, in the early 1990s during a six-year war that lasted from February 1988 to May 1994.
The conflict left an estimated 30,000 people dead and one million displaced before the two sides agreed to a ceasefire in 1994, which was never followed by a permanent peace accord, keeping the dispute unsettled.
The resolution of the protest, demanding an end to the biased activities against Azerbaijan, was presented to the EU delegation following the protest action. The protesters expressed hope that their demands would be taken into account by members of the European Parliament, the European Commission and the EU Council.