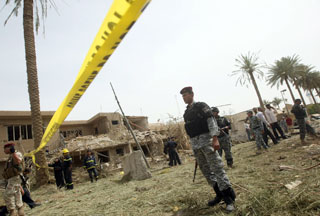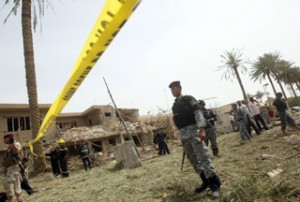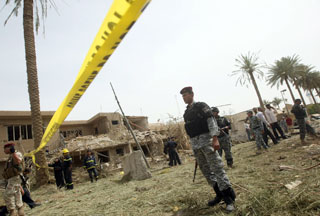 Back-to-back attacks on foreign embassies in Baghdad have killed dozens, wounding hundreds and causing sizable damage on the targeted sites.
The Sunday incidents saw bombs going off almost simultaneously as one hit the vicinity of the Iranian Embassy and two others jolted an area that houses several diplomatic missions, including the Egyptian Consulate, German and Spanish embassies, said Maj. Gen. Qassim al-Moussawi, a spokesman for the city's operations command center, the Associated Press (AP) reported.
The German Foreign Ministry said one of the attacks had killed an Iraqi guard on duty at its embassy and wounded three other guards, the German Press Agency reported.
Shrapnel also wounded four Egyptians working at the consulate, said Egypt's Foreign Ministry, said an AP report. An official with the Iranian embassy, meanwhile, said its staff suffered no casualties in the bombings though the embassy building incurred sizable damage.
The Spanish Foreign Ministry noted that one blast caused serious damage to its embassy, AFP said. "This morning there was an explosion near our embassy in Baghdad, and in addition to the deplorable loss of life there was also important material damage" to the embassy, it said in a statement.
As many as 41 people died and more than 200 sustained injuries in the incidents, Reuters said.
Iraqi Foreign Minister Hoshyar Zebari was quoted by AFP as blaming the attacks on al-Qaeda operatives, noting that it was early to determine the actual source of the raids.
No group has yet claimed responsibility for the bombings.
Violence continues to take its toll on the civilian population across Iraq more than six years after the US-led invasion of the country and amid an anticipatory mood following the recent parliamentary elections.