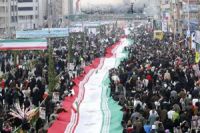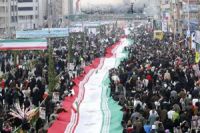 With only hours to the beginning of rallies marking the 35th anniversary of the victory of Iran's Islamic Revolution, celebrations start across the country.
According to Press TV, on Monday night, fireworks and colorful illuminations brightened the nights of many Iranian cities on the eve of the demonstrations on the 22nd of the Iranian calendar month of Bahman (February 11).
Iranian officials state that celebrations and festivities are also underway in 60 world countries.
According to Iran's Islamic Ideology Dissemination Organization (IIDO), a total of 170 Iranian artists from different artistic and cultural groups have travelled across the globe to promote the cultural and artistic aspects of the Islamic Revolution.
The massive turnout of people at Tuesday rallies will demonstrate the bravery and glorious resistance of the Iranian nation against the illegal US-engineered sanctions, and Iran's preparedness to counter any military threat. On Sunday, Majlis (parliament), the Society of Seminary Teachers of Qom, the Defense Ministry and a number of other individuals and organizations issued separate statements encouraging people to participate in the Bahman 22 rallies.
They all called on the people across the country to turn out in large numbers in rallies to reaffirm their allegiance to the ideals of the Islamic Revolution and Imam Khomeini, the late founder of the Islamic Republic of Iran.