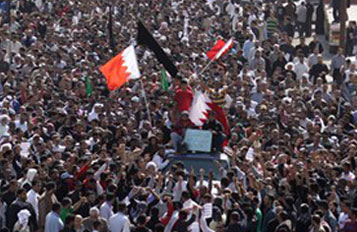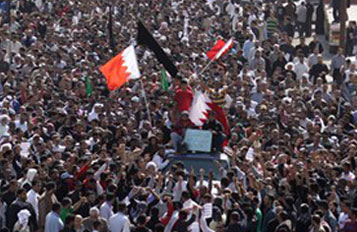 Thousands of demonstrators, inspired by popular revolts that toppled rulers in Tunisia and Egypt, poured into Bahrain's capital on Wednesday to mourn for a second protestor killed in clashes this week.
Several hundred gathered at a funeral procession for a man shot dead when police and mourners clashed at an earlier funeral procession on Tuesday.
For the moment, protestors are calling for the resignation of prime minister Sheikh Khalifa bin Salman Al Khalifa rather than King Hamad bin Isa Al Khalifa, who has the final say in politics.
Women dressed in black abaya cloaks followed the procession with their own chants calling for peace and Bahraini unity.
Elsewhere in central Manama, witnesses said about 2,000 protestors had spent the night in tents at Bahrain's Pearl Roundabout, similar to the number marching on the streets a day earlier.
Police kept their distance, mostly confining themselves to a nearby dirt lot with dozens of SUV police vehicles.
The ministry of Interior announced that all roads were open.
The demonstrators from Bahrain's Shia majority say the ruling Sunni minority shuts them out of housing, healthcare and government jobs.
The main Shia opposition bloc Wefaq, which boycotted parliament to protest the clampdown by Sunni security forces, said it would hold talks with the government on Wednesday.
"We support the people here, we are not the decision makers," said Ibrahim Mattar, a Wefaq parliamentarian who had joined the funeral procession.
"The people are the decision makers," Mattar said, adding that Wefaq would call for direct election of the prime minister.