Bahrain
Bahraini court temporarily releases opposition leader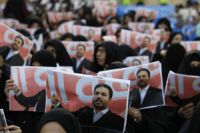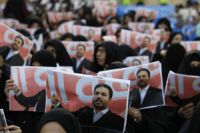 A senior Bahraini opposition politician was temporarily freed on Thursday by the court trying him on charges that include inciting terrorism, in a surprise conciliatory ruling in the US-allied Persian Gulf Arab state.
Khalil al-Marzouq, a former parliament member, was detained in September by police investigating his alleged promotion of terrorism, angering his Islamist al-Wefaq party, Bahrain's largest opposition group.
Unrest has gripped Bahrain since a 2011 uprising led by its long oppressed majority demanding reforms and more share in government in the sheikhdom ruled by oppressive Aal-e Khalifaminority regime.
The arrest of Marzouq prompted the Wefaq party to suspend its participation in talks with the government aimed at ending the turmoil in Bahrain, which hosts the US Fifth Fleet.
Marzouq, appearing in court for the first time amid tight security, rejected all charges. The judge said he could go free until his next hearing on November 18.
His wife, speaking at the courtroom after the ruling, said Marzouq was due to be released later on Thursday.
"There are usually no releases in similar cases when it is related to terrorism charges, but I think such a ruling was intended to placate public opinion," said Mohammed al-Maskati, head of the Bahrain Youth Society for Human Rights.
Talks between the regime and its opponents began in February, but have failed to resolve the political crisis, with the two sides still mistrustful and apparently far apart on the opposition's main demand for an elected government.
On Tuesday, Wefaq said Marzouq's trial shows "the political persecution and exclusion the authorities are practicing", accusing them in a statement of "taking advantage of their power for vengeful purposes against those demanding democracy".