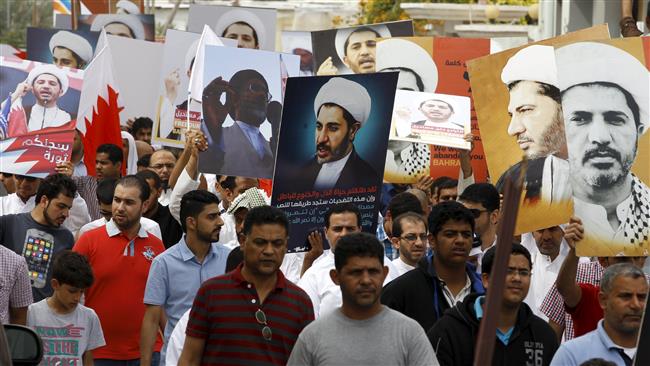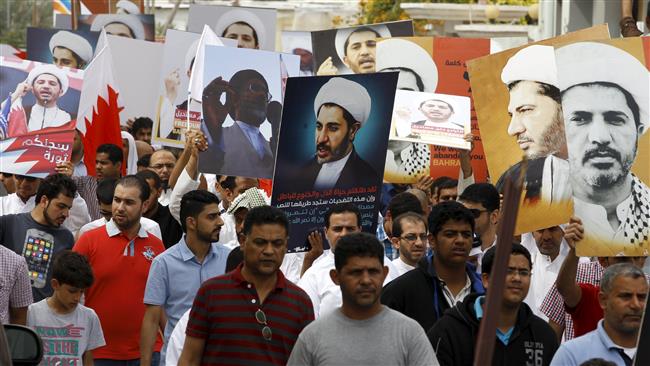 Hundreds of Bahrainis took to the streets across the Persian Gulf kingdom Friday in a show of protest against the continued imprisonment of prominent Shia cleric and opposition leader Sheikh Ali Salman, voicing their anger over the presence of Saudi forces and demanding the downfall of Al Khalifa monarchy.
Protesters staged a rally in the northwestern Bahraini village of Diraz, situated about 12 kilometers (7 miles) southeast of the capital, Manama, following Friday prayers, demanding the freedom of Salman, who heads the country's main opposition bloc al-Wefaq National Islamic Society.
The marchers, carrying portraits of Salman and Bahrain's national flags, also called for a peaceful democratic transition in Bahrain, and denounced the Manama regime's discrimination against different walks of the Bahraini nation.
Elsewhere in the coastal village of Malkiya, the demonstrators condemned the continued presence of Saudi troops in Bahrain, who were deployed to the country in March 2011 to assist the Bahraini government in its crackdown on peaceful pro-democracy rallies.
The developments came only a day after a court in Bahrain sentenced three people to life in prison and handed down a jail term of 15 years to another over their alleged role in attacking a bus during an anti-regime protest more than a year ago.
Bahrain's Public Prosecutor Ahmed al-Hammadi said on Thursday that the convicts blocked a highway near the village of Sanabis, west of Manama, in November 2014, set the bus alight and opened fire on its driver.
Since February 14, 2011, thousands of anti-regime protesters have held numerous demonstrations on an almost daily basis in Bahrain, calling for the Al Khalifah family to relinquish power.
Scores of people have been killed and hundreds of others injured or arrested in the ongoing heavy-handed crackdown on the anti-regime rallies.
Amnesty International and other rights groups have repeatedly censured the Bahraini regime over the "rampant" human rights abuses against opposition activists and anti-regime protesters.