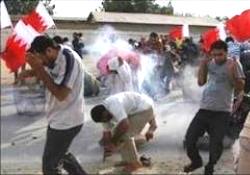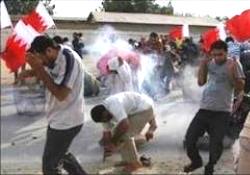 The Bahraini police clashed with hundreds of protesters on Friday as they demonstrated to demand the release of political prisoners held by the government, witnesses said.
Demonstrators, who included women, shouted "Free the prisoners!" and held up photos of people being held, AFP reported.
The protests in Shia villages near the capital Manama were in response to a call from the February 14 Revolution Youth Commission.
Since mid-February 2011, thousands of anti-government protesters have been staging regular demonstrations in the streets of Bahrain, calling for the Al Khalifa royal family to relinquish power.
On March 14, 2011, troops from Saudi Arabia and the United Arab Emirates invaded the country to assist the Bahraini government in its crackdown on the peaceful protesters.
Scores of protesters have been killed — many under torture — and numerous others detained and transferred to unknown locations during the regime's brutal onslaught on protesters.
In mid-March 2011, Saudi-led forces were dispatched to the Persian Gulf island upon Manama's request to help quell the nationwide protests.
In addition, Bahraini security forces have reportedly kidnapped a number of women, including doctors, university professors, and students.
Human rights groups and the families of protesters arrested during the crackdown say that most detainees have been physically and mentally abused and that the whereabouts of many of them remain unknown.
Physicians for Human Rights says doctors and nurses have been detained, tortured, or disappeared because they have "evidence of atrocities committed by the authorities, security forces, and riot police" in the crackdown on anti-government protesters.