Bahrain
Bahraini protesters show support for senior Shia clergyman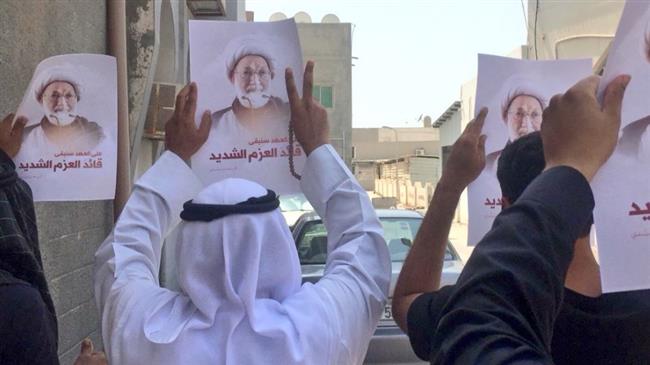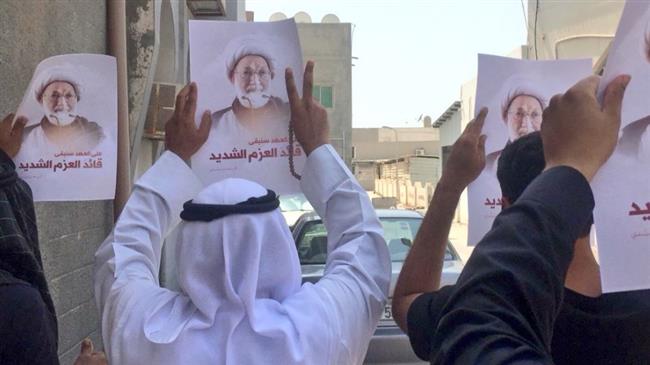 Scores of people have held a protest in Bahrain to voice their support for distinguished Shia cleric Sheikh Isa Qassim, who has been stripped of his nationality by the ruling Al Khalifah dynasty, and condemn the ongoing crackdown on pro-democracy activists in the tiny Persian Gulf kingdom.
The protesters converged at the courtyard of Imam al-Sadiq Mosque in the northwestern village of Diraz, situated some 12 kilometers west of the capital Manama, following Friday prayers, carrying images of the 81-year-old cleric, who is the spiritual leader of the country's dissolved opposition bloc, al-Wefaq National Islamic Society.
They chanted slogans in support of the prominent Shia clergyman and against the ruling Al Khalifah regime.
The development came a day after regime forces took down banners and flags in commemoration of the martyrdom anniversary of Imam Hussein (PBUH), the third Shia Imam and the grandson of Prophet Mohammad (PBUH), in the same Bahraini village.
Manama regime has ramped up its repressive measures during the first month of the Islamic lunar calendar of Muharram, the tenth day of which is known as Ashura that marks the martyrdom anniversary of Imam Hussein (PBUH).
Bahraini regime forces have removed stalls set up to provide food and drinks to the mourners, and removed Ashura signs across the country.
Thousands of anti-regime protesters have held demonstrations in Bahrain on an almost daily basis ever since a popular uprising began in the country in mid-February 2011.
They are demanding that the Al Khalifah regime relinquish power and allow a just system representing all Bahrainis to be established.
Manama has gone to great lengths to clamp down on any sign of dissent. On March 14, 2011, troops from Saudi Arabia and the United Arab Emirates were deployed to assist Bahrain in its crackdown.
Scores of people have lost their lives and hundreds of others sustained injuries or got arrested as a result of the Al Khalifah regime's crackdown.
On March 5, 2017, Bahrain's parliament approved the trial of civilians at military tribunals in a measure blasted by human rights campaigners as being tantamount to imposition of an undeclared martial law countrywide.
Bahraini King Hamad bin Isa Al Khalifah ratified the constitutional amendment on April 3 last year.