Bahrain
Bahraini Regime Continues Arrests to Suppress Revolution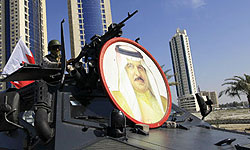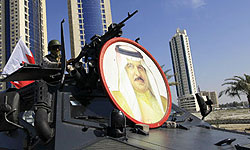 The latest reports coming from Bahrain said the country's security forces have arrested 11 more dissidents in the tiny Persian Gulf island.
The 11 detainees were arrested after participating in demonstrations against the Al-Khalifa regime.
Bahrain has been the scene of turmoil in the last one and a half years. In the latest case of state brutality against the people, a 16-year-old boy was beaten to death by the Saudi-led Bahraini police during the Quds day rallies in the Muslim nation.
Special Investigations Unit head Nawaf Abdulla Hamza alleged that the youth died of bird shots wounds; however Hussam Al Haddad's father told reporters that his son was killed as a result of the strikes to his head by the police forces.
The Saudi-backed forces used tear gas to disperse the protesters on Tuesday.
Anti-government protesters have been holding peaceful demonstrations across Bahrain since mid-February 2011, calling for an end to the Al Khalifa dynasty's over-40-year rule.
Violence against the defenseless people escalated after a Saudi-led conglomerate of police, security and military forces from the Persian Gulf Cooperation Council (PGCC) member states – Saudi Arabia, Kuwait, the United Arab Emirates, Oman and Qatar – were dispatched to the tiny Persian Gulf kingdom on March 13, 2011, to help Manama crack down on peaceful protestors.
So far, more than 69 people have been killed, hundreds have gone missing and thousands of others have been injured.
Police clampdown on protesters continues daily. Authorities have tried to stop organized protests by opposition parties over the past month by refusing to license them and using tear gas on those who turn up.
The opposition coalition wants full powers for the elected parliament and a cabinet fully answerable to parliament.