Bahrain
Bahraini regime forces attack protesters ahead of uprising anniversary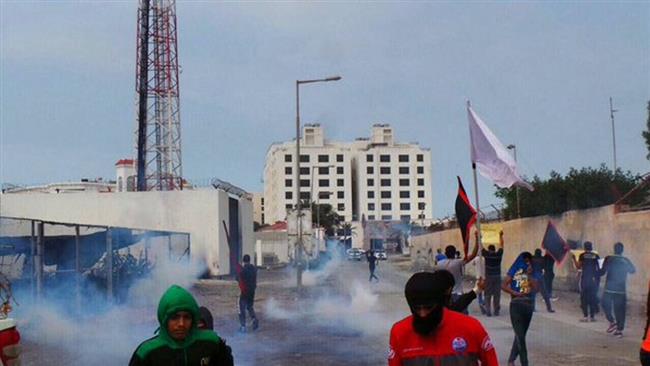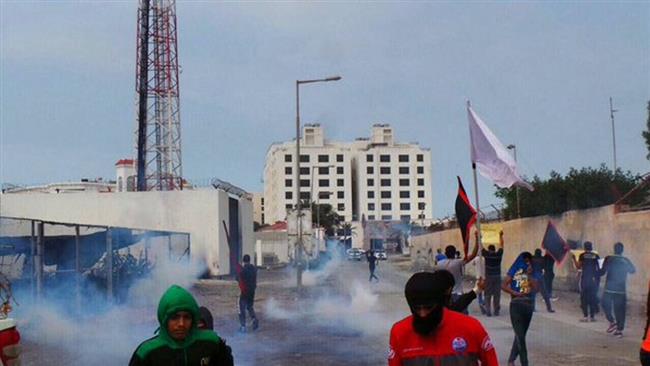 Zionist Bahraini forces have fired birdshots and tear gas canisters to suppress anti-regime protests across the Persian Gulf kingdom as the nation prepares to mark of the fifth anniversary of a popular uprising against the Al Khalifah rule.
In one of the events on Saturday, Bahraini demonstrators took to the street in the village of Nuwaidrat, located about 10 kilometers (six miles) south of the capital, Manama.
The marchers demanded the release of all imprisoned opposition figures and political dissidents, including Sheikh Ali Salman, who heads Bahrain's main opposition bloc, al-Wefaq National Islamic Society.
Clashes broke out when regime forces intervened, firing shots and using tear gas to disperse the crowd. The protesters responded by throwing rocks and petrol bombs at armored police vehicles.
Another march, which was held in the northern village of Abu Saiba, also turned violent, with regime forces taking some 17 people into custody late on Saturday.
On Friday morning, Bahraini troops raided a house in the al-Diya village near Manama, making an unspecified number of arrests.
Similar anti-regime protests were also held across Bahrain in the run-up to the anniversary of the country's 2011 uprising.
Since February 14, 2011, thousands of anti-regime protesters have held numerous demonstrations on an almost daily basis in the kingdom, calling for the Al Khalifah family to relinquish power.
On March 14 that year, troops from Saudi Arabia and the United Arab Emirates invaded the country to assist the Bahraini government in its crackdown on peaceful pro-democracy protesters.
Scores of people have been killed and hundreds of others injured or arrested in the ongoing heavy-handed crackdown on anti-regime rallies.
Amnesty International and other rights groups have repeatedly censured the Bahraini regime over the "rampant" human rights abuses against opposition activists and anti-government protesters.