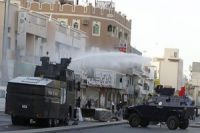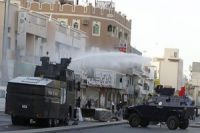 Bahraini protesters have held an anti-regime demonstration in the tiny Persian Gulf kingdom to express solidarity with prominent jailed human rights activist Nabeel Rajab, and demand his immediate release.
According to AFP, on Tuesday, protesters took to the streets in the village of Malikiya, south of the capital Manama, in defiance of a heavy-handed security crackdown.
The demonstrators demanded the release of Rajab, who is the president of the Bahrain Center for Human Rights.
Riot police fired tear gas at the crowd to break up the anti-regime demonstration.
The Bahraini activist is serving a two-year term for taking part in protests against the Al Khalifa regime.
A Bahraini court on Tuesday reduced the prison sentence handed to Rajab from three years to two.
The prominent human rights activist had been sentenced to three years in prison for three separate cases of organizing and participating in protests against the Al Khalifa monarchy.