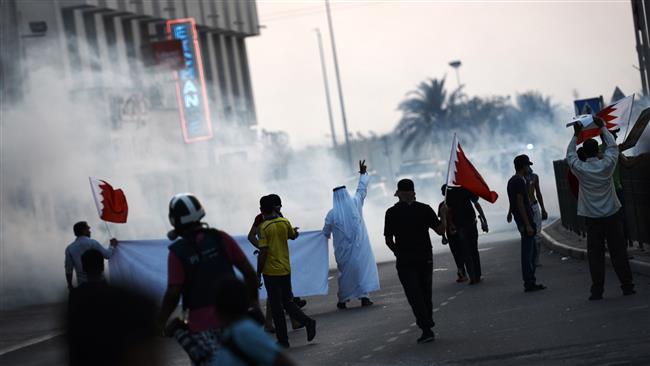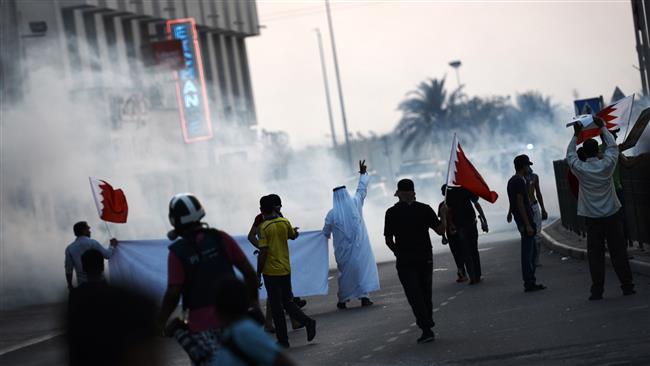 People in Bahrain have staged rallies to express their anger at the construction of Britain's new permanent military base in the tiny Persian Gulf country.
On Friday, the outraged protesters took to the streets of Sanabis and Musalla villages near the capital Manama to slam the presence of the Royal Navy in Bahrain in their country.
The rallies come in reaction to the construction and expansion of the permanent naval base at Mina Salman Port in Bahrain.
The protesters expressed deep concern over the increase of foreign military presence in the Persian Gulf kingdom.
The UK has already started the construction work on the new Royal Navy base in the tiny state. British Foreign Secretary Philip Hammond took part in the groundbreaking ceremony at Mina Salman Port in late October.
Hammond has claimed that the facility will enable London to work with its allies to reinforce stability in the Persian Gulf region.
The £15-million base, which is mainly funded by the ruling Al Khalifah family, will accommodate Britain's new Queen Elizabeth-class aircraft carriers and Type 45 destroyers.
The Arab sheikhdom, which has been witnessing bloody anti-regime protests since 2011, also hosts the Fifth Fleet of the US Navy, which provides protection to the Bahraini royal family and also ensures the US dominance in the oil-rich region.
Over the past years, thousands of anti-regime protesters have held numerous demonstrations in the streets of Bahrain, calling for the Al Khalifa royal family to relinquish power.
Many Bahrainis have been tortured or killed and hundreds more injured and arrested during the regime's ongoing crackdown on peaceful demonstrations.
However, the UK and the US have continued support for the Bahraini government and have kept silence over the Manama regime's violent crackdown on the popular protests.