Bahrain
Bahrainis hold anti-regime demo in Sitra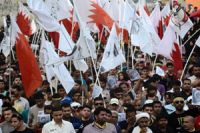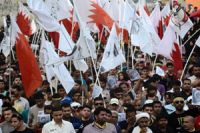 People have taken to the streets in Bahrain's northeastern island of Sitra to stage a demonstration against the Al Khalifa regime.
According to Press TV, on Saturday, the protesters shouted anti-regime slogans and called for the freedom of political prisoners in the tiny Persian Gulf kingdom.
Colin Cavell, a former lecturer at the University of Bahrain said "The Bahraini people have formulated their demand for democratic rights and like most of the modern world they want a say."
Cavell added "Now they are organizing to combat this repressive regime that continues to kill them."
Since mid-February 2011, thousands of pro-democracy protesters have held numerous demonstrations in the streets of Bahrain, calling for the Al Khalifa royal family to relinquish power.
On March 14, 2011, troops from Saudi Arabia and the United Arab Emirates invaded the country to assist the Bahraini government in its crackdown on peaceful protesters.
According to local sources, scores of people have been martyred and hundreds arrested.