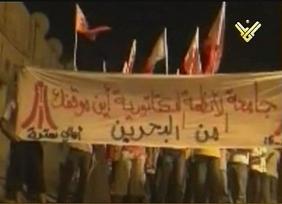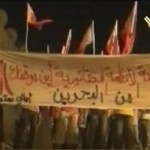 Bahraini demonstrators took to streets on Wednesday, protesting Arab League double standards towards the popular uprisings in the Arab world.
Protester staged the rally in the port city of Sitra. They also blasted the regime of King Hamad bin Isa Al Khalifa and his Saudi-backed security forces over their brutal crackdown on peaceful protest rallies across the country.
Demonstrators condemned the AL stances against Syria, wondering about such a position conserning the peaceful rallies against the Bahraini Regime.
Demonstrators also carried a banner with pictures of young detainees, calling for their release from Bahraini prisons.
Bahraini regime forces were monitoring the protest rally by a helicopter hovering above the site of the demonstration.
The Kingdom has witnessed peaceful anti-government rallies since mid-February, demanding an end to the Al Khalifa's over-40-year-long rule over the Persian Gulf Island.
Scores of people have been killed and hundreds more arrested in a brutal Manama-ordered and Riyadh-backed crackdown in the country.
The latest demonstration comes as naval forces of Bahrain and the US begin joint military maneuvers in the Persian Gulf, diverting international attention from the persisting suppression of peaceful anti-government protests.