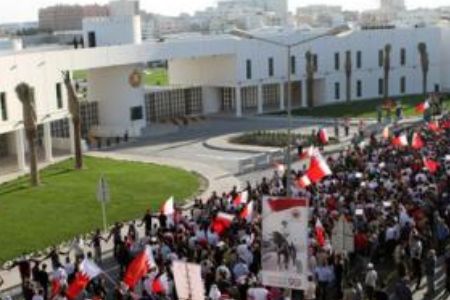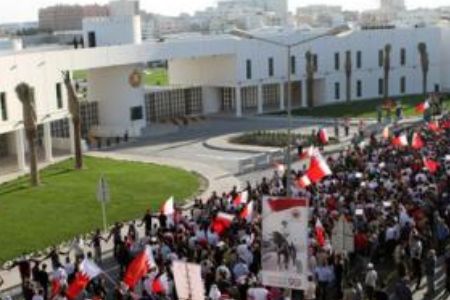 Thousands of Bahraini protesters have gathered outside al-Qudaibiya Palace, where Bahrain's cabinet meets, to call for an end to monarchy.
Protesters gathered outside the palace, chanting "Down, down al-Khalifa" and "No dialogue with the killers," Middle East Online reported on Sunday.
Meanwhile, anti-government protesters continue to camp in the capital's Pearl Square for a third consecutive week, saying they will stay there until their demands are met.
The protesters have been demanding constitutional reforms and an end to monarchy. They have also been calling for free and fair elections and the release of all political prisoners.
Demonstrations have planned to gather outside the US Embassy in Manama to protest against Washington's meddling in their country's internal affairs. They have also called for demonstrations outside the United Nations building on Thursday to urge the international body to pressure King Hamad bin Isa Al Khalifa.
A mass rally outside the government headquarters in Manama is scheduled for Friday.
Last week, in an attempt to contain massive anti-government demonstrations, King Khalifa pardoned 23 political prisoners and ventured a minor cabinet reshuffle.
However, the measures seem not to have been enough for the opposition who say hundreds of political activists are still in Bahraini jails, and for thousands of protesters who are still out, demanding the ruling family to step down.