Bahrain
Bahrainis rally to support cleric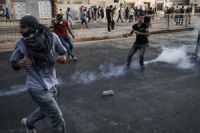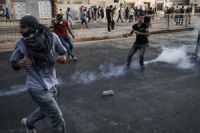 People in Bahrain have held a fresh anti-regime demonstration south of the capital Manama to condemn the regime's threats to send a senior cleric into exile. According to Press TV, the demonstration was held on the island of Sitra on Monday in response to the Al Khalifa regime's threats to deport Ayatollah Hossein Nejati, who is Grand Ayatollah Ali Sistani's representative in Bahrain.
The protest turned violent after Saudi-backed Bahraini security forces fired tear gas to disperse the demonstrators.
Manama has recently revoked the citizenship of Ayatollah Nejati and his family members as well as 31 other Bahrainis in a move that has been widely described as unconstitutional.
The Bahraini regime began pressures on Ayatollah Nejati after some of the country's distinguished religious scholars met him to pledge their allegiance.
Tension has heightened in the tiny Persian Gulf country over the past few days following the martyrdom of Mohammed Abdul Jalil Yousif, a young activist, by the regime forces last week.
According to activists, the 20-year-old was run over by a vehicle belonging to the security forces.