Bahrain
Middle East
Bahrainis repeat call for Sheikh Salman's release
Bahrainis have taken to the streets to denounce the continued detention of prominent Shia cleric Sheikh Ali Salman and call for his immediate release.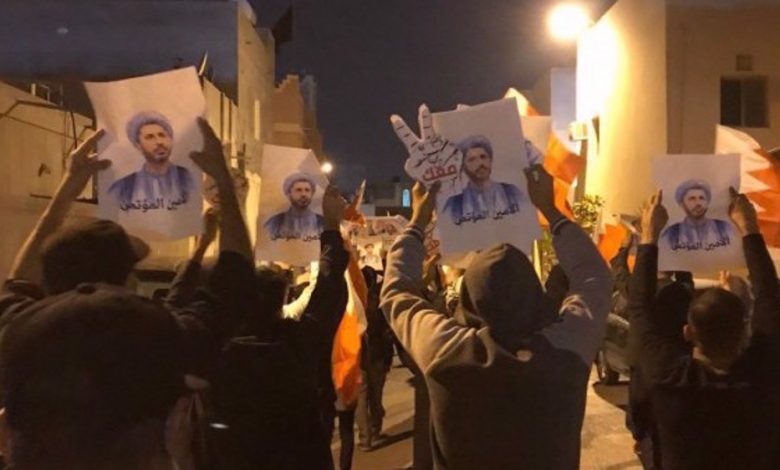 The Arabic-language Bahrain Mirror news website reported that Bahrainis staged several protests across the country on the sixth anniversary of Sheikh Salman's arrest on Monday.
Carrying photos of Sheikh Salman, the protesters chanted slogans calling for his release.
Sheikh Salman, the secretary general of Bahrain's main opposition bloc, al-Wefaq, was arrested on December 28, 2014 on charges of attempting to overthrow the Manama regime and collaborating with foreign powers.
He has denied the allegations, saying he has been seeking reforms in the country through peaceful means.
In June 2015, a Bahraini court sentenced him to four years in prison on charges such as insulting the Bahraini Interior Ministry and inciting others to break the law. He was acquitted of seeking regime change.
The Supreme Court of Appeal increased Sheikh Salman's prison sentence from four to nine years in May 2016.
A few months after Bahrain cut its diplomatic ties with Qatar in June 2017, new charges were leveled against Sheikh Salman.
In November 2017, Sheikh Salman and two of his colleagues, Hassan Sultan and Ali al-Aswad, were charged with "spying on behalf of a foreign country… with the aim of carrying out subversive acts against Bahrain and harming its national interests."
In June 2018, a Bahraini court acquitted the trio of all the charges against them with regard to alleged espionage for Qatar.
But an appellate court overturned the acquittal of the three and sentenced Salman to life in prison in November 2018.
Sheikh Salman was convicted of "communicating with Qatari officials… to overthrow constitutional order," a ruling rights groups have denounced as a travesty of justice.
In January 2019, Bahrain's highest court upheld the life sentence against Sheikh Salman and the two other opposition leaders on charges of spying for Qatar.
Qatar, currently embroiled in a rift with Saudi Arabia and its Persian Gulf allies, has categorically denied accusations of conspiring with Sheikh Salman against Bahrain.
Human rights groups have frequently said cases against activists in Bahrain fail to meet the fundamental requirements of fair trials.
Since mid-February 2011, Bahrain, an ally of the US in the Persian Gulf region, has been witnessing protests demanding that the ruling family relinquish power.
The Al Khalifah regime has brutally cracked down on dissent and engaged in widespread discrimination against the country's Shia majority. Scores of people have been killed and hundreds of others injured or arrested in the island country.